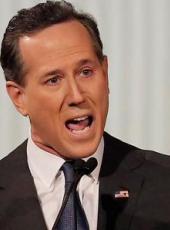 Santorum Campaign Press Release - Huck's Army Founders - The Harris Brothers - Join the Fight With Santorum
Huckabee Supporters Continue To Coalesce Around Santorum Candidacy
Urbandale, IA - Republican Presidential Candidate Rick Santorum announced today that his campaign has received the endorsement of Alex and Brett Harris, co-founders of Huck's Army.
Alex Harris said: "Now is not the time for voters to settle for second or third best, not when we have a candidate like Rick Santorum. Rick is the strongest, most consistent conservative in the race. He is without question the best choice for evangelicals and social conservatives. Rick's record and experience qualify him to lead on the most pressing issues facing our country, because he's already done it. Whether it's welfare reform, Iranian sanctions, or partial-birth abortion, Rick has not only been on the right side of the issues, he's been leading the charge to get the job done."
Brett Harris said: "Rick Santorum has the same dark horse potential that fueled Mike Huckabee's surprise finish in 2008. You won't hear much about him from the mainstream media, but on the ground in Iowa he's connecting with voters and building momentum at just the right time. Conservatives of every stripe are beginning to realize Rick Santorum is their guy. He is rock solid on the economy, on foreign policy, and on faith and family. Rather than settling for the next 'so-so' candidate, Iowans are poised to deliver another dark horse to the national stage."
Rick Santorum said: "I am excited to receive Alex and Brett's endorsement today. They have been true grassroots champions for Governor Huckabee and the conservative causes we believe in. We need a strong conservative who will stand up for those principles of faith, family, and freedom that make America great, and I am committed to doing just that. I am looking forward to working with Alex and Brett to continue this fight and stand up against the dangerous agenda of the Obama Administration."
At age twenty-three, twin brothers Alex and Brett Harris are co-authors of the best-selling books Do Hard Things and Start Here and are leading voices for young evangelicals and conservatives. In 2008, at age 19, they co-founded the group Huck's Army in support of former governor Mike Huckabee--an independent grassroots organization with over 20,000 active volunteers and state coordinators in 49 states--and were responsible for securing the endorsement of martial artist and actor Chuck Norris.
The Harris brothers are the latest leading supporters of Governor Huckabee to endorse the Rick Santorum for President campaign. In recent weeks, Rick Santorum has received the endorsement of Iowa FAMiLY Leader President Bob Vander Plaats, Iowa Family Policy Center President Chuck Hurley, Iowa HuckPAC leader Lori Jungling, and influential Iowa minister Terry Amann. In addition to formal endorsements, senior Huckabee staffers who have joined the Santorum team include National Communications Director Hogan Gidley and National Grassroots Coordinator Shelley Ahlersmeyer.
Rick Santorum, Santorum Campaign Press Release - Huck's Army Founders - The Harris Brothers - Join the Fight With Santorum Online by Gerhard Peters and John T. Woolley, The American Presidency Project https://www.presidency.ucsb.edu/node/298348