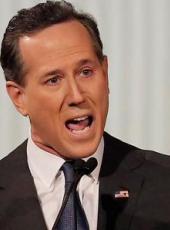 Santorum Campaign Press Release - Home School Legal Defense Association Chairman Michael Farris Commends Rick Santorum to the Voters
Mt. Pleasant, SC - Today, Michael Farris, the President of the Home School Legal Defense Association, has released the following statement - commending Rick Santorum to the voters:
Michael Farris said: "I want to thank Rick Santorum for his stalwart defense of life, marriage, and the rights of parents. He has made these issues his priority throughout his career.  As a fellow homeschooler, he knows how important it is to protect parental rights. That is why I strongly commend Rick Santorum for his support of the Parental Rights Amendment."
Rick Santorum said: "Michael has been a true champion for home school parents just like me and Karen. Our government has placed roadblock after roadblock in front of families who choose to take control over their child's education.   Michael knows that we need to end the factory style education system that believes that one-size fits all education actually works. I am honored to receive these kind words from Michael and commit to working to further place the power to educate our children back into the hands of our parents, and out of the bureaucrats."
Michael P. Farris is Chairman of the Home School Legal Defense Association and Chancellor of Patrick Henry College. Since founding HSLDA in 1983, Farris has used his extensive experience in both politics and appellate litigation to defend parental rights and help grow the organization to over 80,000 member families. He is also the founding president and current Chancellor of Patrick Henry College, a Christian institution with the mission of training students through a classical liberal arts curriculum and apprenticeship methodology to impact the world "for Christ and for Liberty."
Farris has written over a dozen books, including three novels, a constitutional law textbook, and works on marriage, parenting, homeschooling, political advocacy, and religious liberty. His daily radio program, Home School Heartbeat, airs on several hundred stations nationwide. In recognition of his work in home education, Education Week has named Farris one of the "Top 100 Faces in Education of the 20th Century." Heritage Foundation awarded him its Salvatori Award for American Citizenship in 2002. Michael and Vickie Farris live in Purcellville, Virginia, and have 10children and 12 grandchildren.
Rick Santorum, Santorum Campaign Press Release - Home School Legal Defense Association Chairman Michael Farris Commends Rick Santorum to the Voters Online by Gerhard Peters and John T. Woolley, The American Presidency Project https://www.presidency.ucsb.edu/node/299441