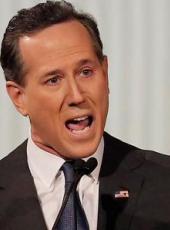 Santorum Campaign Press Release - Former New Hampshire Conservative Congressional Candidate Rick Parent Joins the Fight With Santorum
Bedford, NH - Republican Presidential Candidate Rick Santorum has received the endorsement of former New Hampshire Republican congressional candidate Rick Parent.
Rick Parent said: "I am proud to endorse Rick Santorum for President. There is no candidate in the field who shares more of my strong faith in family and American exceptionalism than Rick Santorum. Rick Santorum has stood tall for Life, for the traditional family, and for the defense of our nation. His core values are what I consider key to what is needed in our nation's leadership moving forward in the great American Reformation. Rick Santorum holds the same values that I live by, and are without question, and his leadership is impeccable. I appreciate Senator Santorum being a champion for State's Rights and for his unwavering stance on Parental Consent with regards to our children. Rick Santorum stands as the candidate I believe needs to be our next commander-in-chief, and I look forward to working with his growing New Hampshire campaign team to help build upon his momentum."
Rick Santorum said: "I am thrilled to receive Rick's endorsement today. Rick is a champion for faith, family and freedom in New Hampshire. As we come down the home stretch toward the First-in-the-Nation primary, Rick's support will be critical to building on the great momentum our campaign has experienced in the closing weeks of this campaign. I look forward to working with Rick to again defy the pundits on Tuesday night."
Rick Parent has been a champion for the traditional family and for our nation's security. A former candidate for Congress in New Hampshire, Parent advocated for strong borders, strong families, and a strong national defense. Parent is proud of his maritime background that instilled in him a tough work ethic and meeting challenges, and proudly proclaimed during his congressional campaign that he would "step up and be the man to make the tough yet necessary decisions that others refuse to address."
Rick Santorum, Santorum Campaign Press Release - Former New Hampshire Conservative Congressional Candidate Rick Parent Joins the Fight With Santorum Online by Gerhard Peters and John T. Woolley, The American Presidency Project https://www.presidency.ucsb.edu/node/299896