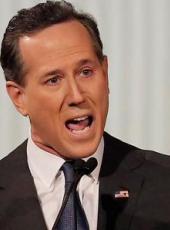 Santorum Campaign Press Release - Former Chairman of the National Organization For Marriage Endorses Santorum For President
Maggie Gallagher Joins The Fight With Santorum
Mt. Pleasant, SC - The Rick Santorum for President campaign has received the endorsement of Maggie Gallagher, the former Chairman of the Board of the National Organization for Marriage.
In an email to her supporters, Gallagher said:
... "What moved me most are the words Rick Santorum used to "connect the dots"-to explain why support for marriage, for life, and for an economy that provide the dignity of jobs to average Americans are not three separate things. They are bound together by principles-by American principles...
... The left, which thought it had buried Santorum years ago, is going after him with a hatred unmatched. They hate him with that special ire reserved for a man's virtues, not his vices.
They will go after him not just to defeat Rick Santorum, but to smear his good name, to associate it with their own muck, to take a decent and honorable man and try literally to make his name mean mud.
They will not succeed.
The American people, I promise you, are not going to reject a man they would otherwise support because he believes in traditional Christian views of sex and marriage. Especially when he believes-not just with his words, and not just with his vote, but with every action of his soul and his life-that a man's job is to support his children, born and unborn, to commit a loving and faithful marriage to one woman, and to devote himself to being a good dad.
That's Rick Santorum..."
Rick Santorum was one of the original authors of the Federal Marriage Amendment and is widely credited for pushing for the only vote on the Federal Marriage Amendment in the United States Senate. Senator Santorum was also the only 2012 presidential contender to campaign in Iowa against the State Supreme Court justices who redefined marriage.
Rick Santorum, Santorum Campaign Press Release - Former Chairman of the National Organization For Marriage Endorses Santorum For President Online by Gerhard Peters and John T. Woolley, The American Presidency Project https://www.presidency.ucsb.edu/node/300072