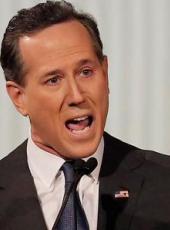 Santorum Campaign Press Release - For the First Time Ever, Influential Sioux City Radio Host Sam Clovis Endorses a Candidate for President - and It's Santorum
Urbandale, IA - Republican Presidential Candidate Rick Santorum has received the endorsement of influential Siouxland radio personality Sam Clovis.
Sam Clovis, a popular conservative radio talk show host in the Siouxland market from 10 - 11am each morning on KSCJ 1360-am, is endorsing former Pennsylvania Senator Rick Santorum for President. Clovis, whose program commands a number one rating in his time slot, has never endorsed a candidate but is taking what he considers is a major step in being involved in the political process.
Clovis said, "Many listeners and interested Iowans are always asking me who I will be supporting in the upcoming caucuses. I think it's time I take a stand and let people know." He said he came to his decision after spending months covering the election cycle and interacting with nearly all of the candidates seeking the Republican nomination president to run against incumbent Barack Obama.
Clovis said, "My ideal candidate must be a conservative who believes in a constitutionally limited government, fiscal responsibility, strong national defense and unflagging devotion to life and traditional marriage." He stated that only Rick Santorum had the experience, education and life-example to satisfy all of these characteristics. Clovis believes that Santorum, of all the candidates, is the one most likely to follow through on his campaign promises. He sees Santorum as trustworthy and a person who believes that individual Americans are best able to decide what is best for themselves, not some government nanny state.
Senator Santorum said: "Sam Clovis is a true voice for conservatism in Siouxland. He has stood tall for conservative principles and constitutional government both on the air and in the classroom. Sam is a respected voice whose endorsement will be important to his many listeners, so to have his support today is terrific boon to our campaign and honor to receive. The momentum continues building for us, and I am thrilled to have Sam as part of our team as we put our plan to win the Iowa caucuses into action!"
Clovis is a 25-year veteran of the United States Air Force, an Air Force Academy graduate where he earned a degree in political science. He holds an MBA and a doctorate in public administration from the University of Alabama. He has been following politics most of his life and, since going on KSCJ two years ago, has been deeply involved in analyzing policies and politics. He has also brought to the Siouxland the very popular Serious Civics lecture series. These presentations are rooted in the Constitution and provide context for contemporary events in America.
Rick Santorum, Santorum Campaign Press Release - For the First Time Ever, Influential Sioux City Radio Host Sam Clovis Endorses a Candidate for President - and It's Santorum Online by Gerhard Peters and John T. Woolley, The American Presidency Project https://www.presidency.ucsb.edu/node/298277