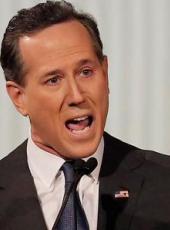 Santorum Campaign Press Release - Florida Pro-Family Leader John Stemberger Endorses Santorum FOR PRESIDENT
Former Perry Supporter Joins The Fight With Santorum
Mt. Pleasant, SC - The Rick Santorum for President campaign is proud to announce that Rick Santorum has received the endorsement of Florida pro-family leader John Stemberger. Stemberger had previously endorsed Gov. Rick Perry (R-TX) and served as Perry's state co-chairman during the Florida Presidency Five event in Orlando. This marks the latest in a line of national conservative leaders to coalesce behind the Santorum campaign.
John Stemberger, in a statement released to his supporters, said: "Senator Santorum has been a champion for the timeless values of life, marriage, family and religious liberty. His personal life and character is a genuine reflection of the principles he stands for in every way. He is the only candidate in this race who has consistently argued during debates for the primacy of the family unit as the basis for social order and a sound economy. As an economic conservative, Rick Santorum can also unite the tea party, evangelicals and pro-life Catholics to form a winning coalition. I am proud to give my full support to Rick Santorum for President of the United States."
Rick Santorum said: "I am honored to receive John's endorsement today. John has been a stalwart defender of the family and the traditional values. I am looking forward to working with John in the coming weeks to help our campaign win the primary in the critical swing state of Florida."
Stemberger has been a leading conservative voice for Floridians, leading the successful marriage amendment campaign in 2008 and serving as the former political director for the Republican Party of Florida in the 1990s.
Rick Santorum, Santorum Campaign Press Release - Florida Pro-Family Leader John Stemberger Endorses Santorum FOR PRESIDENT Online by Gerhard Peters and John T. Woolley, The American Presidency Project https://www.presidency.ucsb.edu/node/299436