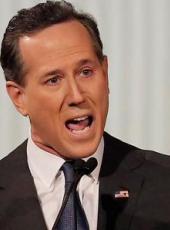 Santorum Campaign Press Release - Concerned Women For America President Penny Nance Endorses Santorum For President
National Conservative Leaders Continue To Coalesce Behind Santorum
Myrtle Beach, SC - The Rick Santorum for President campaign is proud to announce that Rick Santorum has received the personal endorsement of Penny Nance, President and CEO of Concerned Women for America.
Penny Nance said: "I am excited to personally endorse Rick Santorum for President of the United States. Rick has been a champion for faith, family and freedom for nearly two decades. When a leader was needed on Capitol Hill, we always knew we could go to Rick Santorum to ensure that conservative values were advanced. Rick led the fight to end partial birth abortion, reform welfare, and fight Radical Islam. I have no doubt that the Santorum Administration will continue the fight for conservatism and our founding principles. I am proud to stand with Rick, and I look forward to working with him and his campaign to defeat President Obama."
Rick Santorum said: "Penny has been a true leader for conservatism - fighting for our children, our families, and our founding values. Penny's endorsement is yet another sign that national conservative leaders are coalescing behind our campaign and our positive message of strong conservative values. Leaders like Penny are recognizing we need a bold contrast with President Obama, not pale pastels that do not differentiate ourselves from the Obama agenda. I am excited to work with Penny to make those bold contrasts and defeat President Obama."
Penny Young Nance most recently served as President of Nance and Associates and as Special Advisor for the Federal Communications Commission (FCC), where she advised the Chairman and the Commissioners on media and social issues. Mrs. Nance's key responsibilities centered on the protection of children, including broadcast indecency and the media task force on childhood obesity.
Before joining the FCC, Mrs. Nance was founder and President of the Kids First Coalition, a non-profit organization focused on educating Capitol Hill, the media, and the public on a variety of issues related to children. Mrs. Nance has been quoted and featured on the topic of social issues and politics in print media including the New York Times, New York Daily News, Wall Street Journal, USA Today and others. She has appeared on Fox News, C-Span, Lehrer News Hour, MSNBC, CNN and many network affiliates.
Prior to founding Kids First Coalition, Mrs. Nance worked for five years as Legislative Director for Concerned Women for America. She has also consulted for other non-profit organizations including Prison Fellowship Ministries and the Center for Reclaiming America. She served on the Capitol Hill Staff of Congressman Pat Swindall (R-Georgia).
Mrs. Nance has served on Concerned Women for America's national board of directors and the Virginia board of Bethany Christian Services (the nation's largest non-profit adoption agency). In addition, Mrs. Nance formerly volunteered with Birth Mothers, a non-profit organization dedicated to meeting the physical needs of women in crisis pregnancies. She is a graduate of Liberty University in Lynchburg, Virginia.
Rick Santorum, Santorum Campaign Press Release - Concerned Women For America President Penny Nance Endorses Santorum For President Online by Gerhard Peters and John T. Woolley, The American Presidency Project https://www.presidency.ucsb.edu/node/300050