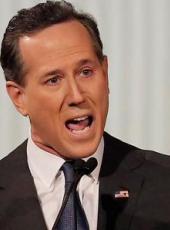 Santorum Campaign Press Release - Best Selling Author Brad Thor Endorses Santorum for President
Urbandale, IA - New York Times Best Selling Author Brad Thor announced his support for Republican Presidential Candidate Rick Santorum.
Brad Thor said: "There is one presidential candidate who understands and can swiftly address the threats facing our nation - and that candidate is Rick Santorum. Rick Santorum has stood strong against radical dictators in Syria and Iran, the gravest threat to our national security. Rick knows that the world would be forever changed by Iran getting a nuclear weapon, and he has sworn to keep this from happening. I am excited to add my endorsement to the growing list of prominent supporters who understand thatRick Santorum is the right man, at the right time to lead our nation."
Rick Santorum said: "I am thrilled to receive Brad's support today. Brad has stood out as an author who didn't just sit in his office and write about the threats facing America, but dove into the issue and learned first-hand that the threats are real and need to be addressed. We need a president who understands these issues, and I am committed to standing tall for America, our values, and our security."
Brad Thor is the #1 New York Times bestselling author of Full Black, Foreign Influence (one of Suspense Magazine's best political thrillers of 2010), The Apostle, The Last Patriot (nominated best thriller of the year by the International Thriller Writers Association and banned in Saudi Arabia), The First Commandment, Takedown, Blowback (recognized as one of the "Top 100 Killer Thrillers of All Time" by NPR), State of the Union, Path of the Assassin, The Lions of Lucerne, and his New York Times bestselling spin-off series The Athena Project.
Brad is a member of GBTV, and has appeared on FOX News Channel, CNN, CNN Headline News, MSNBC, ABC, CBS, NBC, and PBS programs to discuss terrorism, as well as how closely his novels of international intrigue parallel the real threats facing the world today.
Brad has served as a member of the Department of Homeland Security's Analytic Red Cell Unit, and is a fellow of the Alexandrian Defense Group. He has lectured to law enforcement organizations on over-the-horizon/future threats and has been a keynote speaker for the National Tactical Officers Association annual conference, and the Ronald Reagan 100 celebration. A strong supporter of The Heritage Foundation, Brad has spoken at their national headquarters on the need for robust missile defense. He alsosits on The International Free Press Society's Board of Advisors, and has served as a judge for the Sam Adams Alliance Annual Awards.
Rick Santorum, Santorum Campaign Press Release - Best Selling Author Brad Thor Endorses Santorum for President Online by Gerhard Peters and John T. Woolley, The American Presidency Project https://www.presidency.ucsb.edu/node/298184