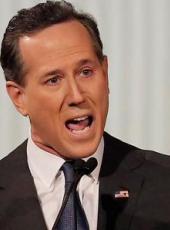 Santorum Campaign Press Release - Berkeley County SCGOP Chairman Resigns So He Can Endorse Rick Santorum For President
"What I Cannot Live With Is The Realistic Prospect Of Sitting Idly By And Do Nothing..." - Tim Callanan
Mt. Pleasant, SC - Berkeley County, South Carolina Republican Party Chairman Tim Callanan has resigned his position, effective immediately so that he can endorse Rick Santorum for President.  Callanan needed to resign, as it was against Party rules for him to endorse a presidential candidate while serving as County Chairman.
Rick Santorum said: "I am truly honored by Tim's endorsement.  I first met Tim nearly two years ago, and I know how much effort he has devoted to building the Berkeley County Party, so for him to resign his post in order to endorse our candidacy is an amazing testament.  Tim's vote of confidence is another symbol that conservative coalescing behind this campaign has begun - and I'm excited to work with him in the closing days of the South Carolina campaign."
In a letter of resignation, Callanan wrote the following:
Over the last three years, it has been a pleasure to serve as your Chairman of the Berkeley Republican Party. On Monday January 14, 2012 I will be submitting my resignation to the county executive committee so that I can endorse Senator Rick Santorum for President.  This is not an easy decision because for one I love this organization and what we have accomplished.  We have taken a dysfunctional party that was both financially and organizationally bankrupt and turned it into one of the most influential county parties in the state.  However, the county party has rules, rules that I helped to draft and install, and they state that the chairman cannot endorse a candidate in a competitive Republican Primary.  I accept those rules and I can live with them.  What I cannot live with is the realistic prospect of sitting idly by and doing nothing while the greatest nation in the world plunges into bankruptcy and I do not ever want to have my son ask me "Dad, you could have done something, why didn't you at least try?"  I do not accept nor has history ever shown that moderation is a winning strategy for the Republican Party. Thus, the only way to win in November is by offering a distinct contrast to that of the current administration. I have read the plans of all candidates and there is only one that is both bold enough to change the direction of this county yet realistic enough to get congressional and public support and that plan is Rick Santorum's.  I know Rick, he is an honorable man, a dedicated husband, father and a born leader and I am honored to give him my support and I encourage you to vote for him this Saturday January 21st.
Tim Callanan - Berkeley County Councilman
Rick Santorum, Santorum Campaign Press Release - Berkeley County SCGOP Chairman Resigns So He Can Endorse Rick Santorum For President Online by Gerhard Peters and John T. Woolley, The American Presidency Project https://www.presidency.ucsb.edu/node/299429