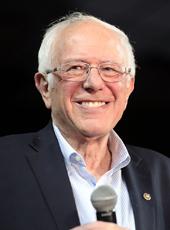 Sanders Campaign Press Release - Where's Clinton's Climate Plan?
BURLINGTON, Vt. — U.S. Sen. Bernie Sanders' campaign spokesman Michael Briggs issued the following statement on Wednesday after scientists confirmed that 2015 was Earth's hottest year on record:
"Sen. Sanders believes stopping the worst effects of climate change is a critical challenge for the next president. That's why he's proposed a bold and comprehensive proposal that lays out what he would do once he's in the White House to put people before polluters. His plan cuts U.S. carbon pollution 40 percent below 1990 levels by 2030 and 80 percent by 2050. He does it by putting a tax on carbon pollution, repealing fossil fuel subsidies and making massive investments in energy efficiency and clean, sustainable energy such as wind and solar power.
"With only 12 days to go before the Iowa caucuses, however, it remains unclear whether Hillary Clinton will tell voters what she would do to address climate change. In July, a post on her campaign website promised a 'comprehensive energy and climate' plan 'in the coming months.' It's now six months later. What's taking so long? Is there a pattern here? It took the former secretary of state four years to take a stand on the Keystone pipeline, which would carry some of the dirtiest oil on the planet across the United States.
"These are among the important questions for voters in Iowa and New Hampshire. Does Secretary Clinton oppose the Bakken crude oil pipeline that cuts through Iowa and three other states? What's her position on the Northeast Direct pipeline in New Hampshire?
"Will she support a carbon tax? Will she continue President Obama's moratorium on all new coal leases on public land? Will she commit to banning fossil fuels extraction on public lands? Does she oppose offshore drilling? Fracking? We just don't know.
"Where is Secretary Clinton's climate plan?"
Bernie Sanders, Sanders Campaign Press Release - Where's Clinton's Climate Plan? Online by Gerhard Peters and John T. Woolley, The American Presidency Project https://www.presidency.ucsb.edu/node/314878