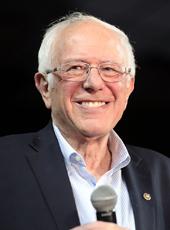 Sanders Campaign Press Release - Where is Clinton on Job-Killing Trade Deal?
DES MOINES, Iowa – Bernie Sanders' campaign on Thursday challenged Hillary Clinton to clarify her shifting stands on a proposed international trade deal after the U.S. Chamber of Commerce president predicted Clinton eventually would support the Trans-Pacific Partnership.
U.S. Chamber of Commerce President Tom Donohue told Bloomberg News he expects Clinton to support a 12-nation trade agreement, a deal she praised before recently signaling concerns.
Clinton had praised past trade agreements and once called the Pacific trade deal "the gold standard in trade agreements to open free, transparent, fair trade, the kind of environment that has the rule of law and a level playing field."
On October 8, however, she said that "as of today, I am not in favor of what I have learned about it. I don't believe it's going to meet the high bar I have set." She hasn't talked about it since then.
"What's her position on this bad trade deal today?" Sanders' spokesman Michael Briggs asked. "It's hard to keep track of Secretary Clinton's shifting stands on the trade agreement that would help multi-national corporations ship more decent-paying jobs from the United States to low-wage nations overseas."
Questions about where Clinton stands were prompted by the article in Inside Trade in which the chamber president said that "he expected Hillary Clinton would ultimately support the TPP if she becomes the Democratic nominee for president and is elected." Donohue reasoned that Clinton switched her position on trade because Sanders led the opposition to the agreement in Congress. "If she were to get nominated, if she were to be elected, I have a hunch that what runs in the family is you get a little practical if you ever get the job," Donohue told Bloomberg at the World Economic Forum in Davos, Switzerland.
Sanders is leading the opposition in Congress to the proposed Trans-Pacific Partnership, which would be the biggest trade pact in history. He also was at the forefront in earlier battles against the North American Free Trade Agreement and permanent normal trade relations with China — trade agreements that Secretary Clinton supported which have led to the loss of more than 30,000 good-paying jobs in Iowa. "Can you be a great country when everything we buy is made in China?" he asked the union workers.
He discussed the issue in Iowa last Tuesday at a United Steelworkers of America union hall. "You are looking at a senator and former congressman who has led the effort since his first day in Congress back in the early 1990s against disastrous trade agreements like NAFTA, CAFTA, PNTR with China and today against the TPP," he told reporters afterward. "My record on trade is very, very different than Secretary Clinton's."
Bernie Sanders, Sanders Campaign Press Release - Where is Clinton on Job-Killing Trade Deal? Online by Gerhard Peters and John T. Woolley, The American Presidency Project https://www.presidency.ucsb.edu/node/315380