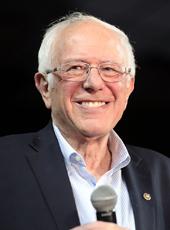 Sanders Campaign Press Release - 'Trump Must be Defeated,' Sanders Tells 2,200 at Rally in North Dakota
BISMARCK, N.D. - U.S. Sen. Bernie Sanders staged big rallies here and in Fargo, North Dakota, on Friday, as he campaigned to extend a string of victories that so have garnered more than 45 percent of the delegates to this summer's Democratic National Convention.
At both North Dakota stops, Sanders spoke about ending the corrupt campaign finance system that props up a rigged economy. He proposed taxing Wall Street speculators to help pay for tuition-free public colleges and universities. He called for strengthening Social Security to boost benefits. He advocated a Medicare-for-all health care system to provide health care for all Americans and bring down the sky-high price of prescription drugs.
Sanders and Hillary Clinton differ on those and other issues, he said, but one thing unites them in the closing weeks of a long contest for the Democratic Party presidential nomination. "We may have differences of opinion but we do share one common goal and that is that Donald Trump must be defeated," Sanders said.
Democrats who want to improve their chances for success on Nov. 8 should consider who has the broadest support, he added. "If you look at virtually every poll in the last six weeks we do better and often much better against Trump than Secretary Clinton," Sanders said. "So if the goal is to defeat Donald Trump, we are the campaign to do that."
As a freight train whistled by, Sanders spoke from a platform outside the Depot Building where Presidents Franklin Roosevelt and John Kennedy campaigned leading up to White House bids.
At Sanders' rally, more than 2,200 hardy supporters clad in layers of sweatshirts and winter coats turned out on a chilly spring evening. The temperature was 49 degrees when the rally began.

"Our goal in the next five weeks...is to win as many delegates as we can and go into the Democratic National Convention with more delegates than Secretary Clinton," Sanders said. "That will be hard," he allowed but added, "We're going to fight for every remaining vote and every remaining delegate."
There are 18 pledged delegates at stake when North Dakota Democrats caucus on June 7.
"We have now won 19 primaries and caucuses and on June 7, if the people of North Dakota come out in large numbers, we're going to win here in North Dakota," Sanders said.
Bernie Sanders, Sanders Campaign Press Release - 'Trump Must be Defeated,' Sanders Tells 2,200 at Rally in North Dakota Online by Gerhard Peters and John T. Woolley, The American Presidency Project https://www.presidency.ucsb.edu/node/317665