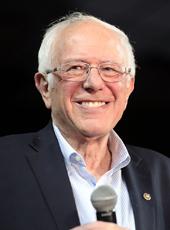 Sanders Campaign Press Release - The Wonderful World of Disney
Bernie Sanders spoke on Tuesday to about 1,500 supporters in Anaheim, California, at a convention center just a few miles away from Disneyland.
He talked about low wages and how the toys sold in the amusement park are made in China.
He also said you are unlikely to see the story on World News Tonight because ABC News is a division of the Walt Disney Co.

Bernie in Anaheim, CA

So here is some information you probably won't see on TV:
Disneyland pays its workers wages that are so low that many are forced to live in motels because they cannot afford a decent home.
The company replaced 250 high-tech workers with low-wage workers from abroad. What's worse, Disney forced them to train their replacements.
Disneyland made a record-breaking profit of nearly $3 billion last quarter.
Many of the toys are made in sweatshops in China and other low-wage countries where people are paid pennies an hour.
"I say to Walt Disney: It is time to pay your workers a living wage.  It is time to provide affordable housing to your employees. It is time to start manufacturing your products in the United States of America," Sanders said.
Bernie Sanders, Sanders Campaign Press Release - The Wonderful World of Disney Online by Gerhard Peters and John T. Woolley, The American Presidency Project https://www.presidency.ucsb.edu/node/317593