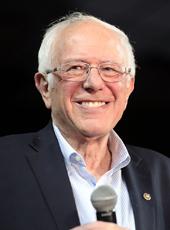 Sanders Campaign Press Release - The American People are Angry
MAQUOKETA, Iowa – "I am angry and millions of Americans are angry," Bernie Sanders told a town meeting that brought out nearly 400 people to an inn here in eastern Iowa on cold Saturday night nine days before Iowa's first-in-the-nation precinct caucuses.
Sanders was responding to former President Bill Clinton, who a few days before had tried to shrug off Sanders' campaign and the massive grassroots movement it has attracted by asserting that "what they need now is not anger but answers."
Sanders recited a litany of reasons for Americans to be angry from childhood poverty to high unemployment to college students confronted by massive debt to a corrupt campaign system that props up a rigged economy.
He also has detailed a series of answers to those and other problems confronting the country.
Sanders has introduced a $1 trillion, five-year plan to rebuild America's crumbling roads and bridges to put 13 million Americans to work in good-paying jobs.
He has a plan to raise the minimum wage to $15 an hour by 2020 from the current starvation wage of $7.25 an hour.
He will fight to sign the Paycheck Fairness Act into law and favors pay equity for women workers.
He has introduced a plan for a constitutional amendment to undo the 2010 ruling in Citizens United v. FEC, which created the corrupt campaign finance system that props up our country's rigged economy.
Sanders has a plan to make public colleges and universities tuition free and pay for it with a tax on Wall Street speculators.
He has a plan to expand and extend Social Security by making the wealthiest Americans pay the same share of their income into the system as everyone else.
Bernie Sanders, Sanders Campaign Press Release - The American People are Angry Online by Gerhard Peters and John T. Woolley, The American Presidency Project https://www.presidency.ucsb.edu/node/315439