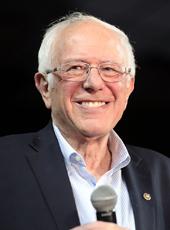 Sanders Campaign Press Release - Thank You Wisconsin, Sanders Tells 10,000 at Madison Coliseum
MADISON, Wis. – Addressing the largest campaign crowd so far in a packed coliseum here on Wednesday night, Democratic presidential candidate Bernie Sanders called wealth and income inequality the great moral, economic and political issue of our time.
The crowd at Veterans Memorial Coliseum – The Associated Press put the count at 10,000 – was the largest turnout so far this campaign season for any presidential nominee.
"Tonight we have made a little bit of history," Sanders said as the crowd roared. "Tonight, we have more people at a meeting for a candidate for president of the United States than any other candidate …," he said as the applause drowned him out. "Thank you."
Sanders said the size of the turnout sends an important message. "This campaign is not about Bernie Sanders. It is not about Hillary Clinton or anybody else. It is about you," Sanders said as he surveyed the audience. "It is about putting together a grassroots movement of millions of people to make sure the government works for all of us and not a handful of wealthy campaign contributors."
Sanders spelled out policy prescriptions to reverse the 40-year decline of the middle class and narrow the wealth and income gap that is greater today in the United States than at any time since before the Great Depression.
To help 5 million workers get the overtime pay they deserve, Sanders applauded President Barack Obama's proposal on Tuesday to help more workers qualify for time-and-a-half pay when they work longer than 40 hours a week.
To help young African-American and Latino youths find work, he proposed a massive jobs program to hire young workers.
To create 13 million jobs, Sanders has proposed a $1 trillion investment in rebuilding crumbling roads and bridges.
To make higher education accessible, he proposed tuition-free enrollment in four-year public colleges and universities. To provide Americans better health care at less cost, he proposed a Medicare-for-all, single-payer system.
To ensure a living wage, he would increase the minimum wage to $15 an hour.
Bernie Sanders, Sanders Campaign Press Release - Thank You Wisconsin, Sanders Tells 10,000 at Madison Coliseum Online by Gerhard Peters and John T. Woolley, The American Presidency Project https://www.presidency.ucsb.edu/node/314531