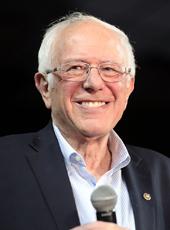 Sanders Campaign Press Release - Strengthen Social Security, Rein in Drug Prices, Sanders Tells Iowa Seniors
NEWTON, Iowa – Meeting on Saturday with Iowa seniors, U.S. Sen. Bernie Sanders challenged Hillary Clinton to support his proposal to boost Social Security benefits and strengthen the retirement program for decades to come.
Under Sanders' plan, the wealthiest Americans who make more than $250,000 a year would pay the same share of their income into Social Security as everyone else. Current law now caps the amount of income subject to payroll taxes at $118,500.
"I hope that Hillary Clinton joins me because I believe that we've got to stand with seniors," Sanders told the crowd of 160 at the Jasper County Community Center. Clinton has said raising the cap is "something we should look at" but she has stopped short of endorsing the proposal. She also has left open the possibility that she would support raising the retirement age at which seniors become eligible for Social Security. "I would consider it," she told a town meeting in New Hampshire last Oct. 28.
Sanders' proposal to lift the cap would raise taxes only on the wealthiest 1.5 percent of Americans. The new revenue would expand Social Security benefits by an average of $65 a month, increase cost-of-living adjustments and lift seniors out of poverty by boosting benefits for low-income beneficiaries.
For only the third time in 40 years, seniors on Social Security this year are not receiving a cost-of-living increase. Sanders' legislation would increase COLAs by accurately measuring the spending patterns of seniors. Under current law, the consumer price index used to calculate annual benefit adjustments does not accurately reflect how inflation in health care costs and prescription drug prices impact seniors.
More than 616,000 people in Iowa – nearly 20 percent of the population – receive about $9 billion annually through Social Security. The benefits go to more than 430,000 seniors, 78,000 people with disabilities and more than 38,000 Iowa children.
Sanders also detailed plans to lower prescription drug prices, which soared more than 12 percent in 2014, the biggest jump in a decade. He has introduced a bill in the Senate authorizing the U.S. Health and Human Services Department to negotiate drug prices with pharmaceutical companies. Rep. Elijah Cummings of Maryland introduced a companion bill in the House. The measures also would make it legal to import less expensive drugs from Canada and other countries.
Bernie Sanders, Sanders Campaign Press Release - Strengthen Social Security, Rein in Drug Prices, Sanders Tells Iowa Seniors Online by Gerhard Peters and John T. Woolley, The American Presidency Project https://www.presidency.ucsb.edu/node/314474