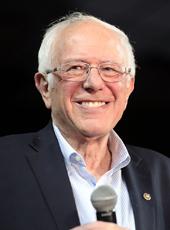 Sanders Campaign Press Release - SRO Crowd for Sanders in Keene
KEENE, N.H. – A big turnout packed a community center here and spilled outside on Saturday when U.S. Sen. Bernie Sanders spoke at a town meeting.
The standing-room-only crowd of more than 750 cheered Sanders' proposals for dealing with wealth and income inequality, making college tuition-free, combating climate change and getting big money out of politics.
Sanders was introduced by Emily Hague, an at-large Keene City Council member. Bernie's work on the environment was an inspiration to her, she said. It's also why she announced at the outset of the meeting that she is endorsing Sanders in New Hampshire's first-in-the-nation primary for the Democratic Party presidential nomination.
The big turnout was evidence of a growing groundswell of support. "This is not about Bernie Sanders," he said. "You can have the best president in the history of the world but that person will not be able to address the problems that we face unless there is a mass movement, a political revolution in this country. Right now the only pieces of legislation that get to the floor of the House and Senate are sanctioned by big money, Wall Street, the pharmaceutical companies. The only way we win and transform America is when millions of people stand up as you're doing today and say. 'Enough is enough. This country belongs to all of us and not a handful of billionaires.'"
"I am not going to give up," Sanders said. "We are going to take them on."
His wide-ranging remarks focused on issues ranging from his proposals to raise the minimum wage, create millions of jobs, establish pay equity for women workers and develop trade policies that help American workers. Those and other detailed proposals would address the growing gap in wealth and income inequality in the United States.
"We live in a nation which is the wealthiest nation in the history of the world but almost all of that wealth rests in the hands of a handful of billionaires and that is something that has got to change," he said. The issue of wealth and income inequality is the great moral issue of our time. It is the great economic issue of our time, it is the great political issue of the time and we are going to address it."
Earlier Saturday, Sanders marched through Brattleboro, Vermont, in the Strolling of the Heifers parade to support family farmers. "The Strolling of the Heifers is one of the great events in Vermont," Sanders said. "It celebrates Vermont agriculture and family farms. It gives us an opportunity to visit with a lot of old friends. It brings people together and it's a lot of fun."
Bernie Sanders, Sanders Campaign Press Release - SRO Crowd for Sanders in Keene Online by Gerhard Peters and John T. Woolley, The American Presidency Project https://www.presidency.ucsb.edu/node/314200