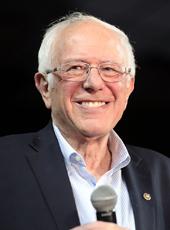 Sanders Campaign Press Release - Social Security Workers Endorse Sanders, He Calls Republican Cuts 'Crazy' and Clinton 'Vague'
CLEVELAND – U.S. Sen. Bernie Sanders on Saturday blasted "crazy" Republican proposals to cut or privatize Social Security and said Hillary Clinton was "vague" about how she would strengthen the retirement program.
Sanders' comments came during a news conference to announce a major endorsement for his White House bid by the National Union for Social Security Workers, an affiliate of the American Federation of Government Employees.
"Republicans think we should either privatize Social Security or make massive cuts. Can you imagine somebody talking about cutting Social Security?" he asked during the news conference. He branded Republican proposals to cut benefits "crazy," "unconscionable" and "wrong" and concluded, "We will not let that happen."
Asked about Clinton's stand on Social Security, Sanders contrasted her "vague" comments to his specific legislation to increase benefits and lift the cap on income subject to the payroll tax. "That is not Secretary Clinton's position. Frankly, I have no idea what her position is. She talks in vague terms," Sanders said.
Sanders has challenged Clinton to support his legislation, which is patterned after a proposal advanced in 2008 by then U.S. Sen. Barack Obama when Clinton challenged him for the Democratic Party presidential nomination.
Sanders' bill would ensure that Social Security would be able to pay every benefit owed to every eligible American for the next 58 years. His plan would increase benefits by more than $1,300 a year for seniors with less than $16,000 in annual income. He also would boost yearly cost-of-living adjustments by making the consumer price index better reflect seniors' rising costs for health care and prescription medicine.
To shore up the retirement program's trust fund, he would lift the cap on taxable income so everyone who makes more than $250,000 a year would pay the same percentage of their income into Social Security as middle-class working families.
"We are the wealthiest country in the history of the world," he told reporters and workers watching the news conference. "At the same time, millions of seniors, disabled veterans and people with disabilities are trying to survive on $11,000, $12,000, $13,000 a year. You know what? You cannot survive on $11,000, $12,000, $13,000 a year.
"We are not going to cut Social Security. We are going to expand Social Security," Sanders stressed.
Sanders was introduced at the news conference by Dana Duggins, executive vice president of the National Union for Social Security Workers. She praised him as "a champion for Social Security" who fought to preserve the program throughout his career in Congress. Sanders, she added, "will be the best champion of Social Security as president of the United States." The union represents about 29,000 workers across the United States who help administer Social Security and Medicare benefits for millions of Americans.
Bernie Sanders, Sanders Campaign Press Release - Social Security Workers Endorse Sanders, He Calls Republican Cuts 'Crazy' and Clinton 'Vague' Online by Gerhard Peters and John T. Woolley, The American Presidency Project https://www.presidency.ucsb.edu/node/315174