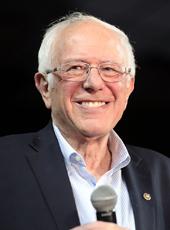 Sanders Campaign Press Release - Sanders Wins Nevada Latinos, Study Shows
LAS VEGAS – Bernie Sanders won the Latino vote in Nevada, according to an analysis released on Monday by the widely-respected William C. Velasquez Institute.
The institute's detailed analysis was conducted after Hillary Clinton's campaign disputed entrance poll numbers by discounting the impact of high turnout by younger Latino voters in Saturday's Nevada precinct caucuses.
"We note that some analysts have said that Secretary Clinton's victories in heavily Latino precincts proved that she won the Latino vote. However the methodology of using heavily Latino or 'barrio' precincts to represent Latino voting behavior has been considered ineffective and discarded for more than 30 years due to non-barrio residential patterns common among Latino voters since the 1980's," said Antonio González, the president of the non-partisan organization whose purpose is to conduct research aimed at improving the level of political and economic participation in Latino and other communities.
"Simply put there is no relevant statistical inconsistency between Edison's Entry Poll results for Latinos, Whites, and Blacks and the overall election results. Based on this fact WCVI concludes that there is no statistical basis to question the Latino vote breakdown between Secretary Clinton and Sen. Sanders."
"It is not surprising that we received the support of the Latino community in Nevada, especially since the majority of those that turned out were young Latinos," said Erika Andiola, a Sanders spokeswoman. "We have consistently seen that the under-35 age group overwhelmingly supports Sen. Sanders, regardless of race, ethnicity or gender. It's also important to remember that young Latinos live all across Nevada and not just in Clark County."
According to the Census Bureau, the Latino population in Nevada is 10 years younger than the national average.
"For months, as Sen. Sanders has traveled across the country, we have seen that the more people get to know him and learn about his consistency and what he stands for, the more people support him. This was certainly the case in Nevada as well where we saw a huge shift in support after he started spending time in the state and staff and volunteers mobilized to amplify his message," Andiola said.
Bernie Sanders, Sanders Campaign Press Release - Sanders Wins Nevada Latinos, Study Shows Online by Gerhard Peters and John T. Woolley, The American Presidency Project https://www.presidency.ucsb.edu/node/315011