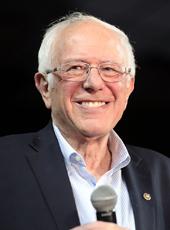 Sanders Campaign Press Release - Sanders West Coast Swing Taps Grassroots Surge
LOS ANGELES – Democratic presidential candidate Bernie Sanders wrapped up a three-day West Coast swing on Monday with a stem-winder speech to an arena packed with sign-waving supporters cheering his call for a political revolution.
He was introduced by comedienne and actress Sarah Silverman. "I give you, if we're all very smart and a little bit lucky, the next president of the United States," she said. The crowd roared its approval.
And there were more thunderous cheers and applause when Sanders walked up a catwalk onto the stage and proclaimed, in a hoarse shout, that "this country belongs to all of us and not a handful of billionaires. We need a grassroots political revolution."
Los Angeles Memorial Sports Arena officials said there were 27,500 people inside the arena and watching on giant TV screens in an overflow area outside. The tremendous turnout – five times bigger than the largest crowd any other presidential candidate has attracted – capped a three-day weekend of big rallies that drew 28,000 people to see Sanders in Portland, Oregon, on Sunday after 15,000 saw him in Seattle on Saturday.
The rallies provided new hard evidence of a Sanders surge. "This is a campaign that is on the move," Sanders said, "and, together, this is a campaign that will end in victory."
He spoke for about an hour about domestic and foreign policy issues.
On foreign policy, Sanders reminded the audience that he voted against the war in Iraq. They cheered. Then he said he spoke with President Barack Obama last week and assured him that he will support an agreement with Iran to stop it from developing a nuclear weapon. There was more applause. But the audience really erupted when he added, "War has got to be the last recourse, not the first."
He was cheered when he called for public funding of campaigns. "This campaign is not a billionaire-funded campaign. It is a people campaign," he said. "We don't take money from billionaires. We don't take money from corporations. Yet we have received more individual contributions than any other campaign. We don't have the money but when people stand together there is nothing we can't accomplish."
Angelenos approved when Sanders congratulated the city for raising the minimum wage to $15 an hour. He has a Senate bill to put the federal hourly minimum wage at $15 by 2020. They applauded his call for a massive road and bridge project to rebuild America's crumbling infrastructure and create 13 million good-paying jobs.
Perhaps the biggest crowd reaction of the night came when he called for tuition-free public colleges and universities, something the University of California system once offered to qualified students.
"The reason why we are doing well in this campaign is because we are telling the truth. We are talking to the reality of American life today. We are talking about a reality in which almost all of the wealth and income in this country is going to the top 1 percent. We are talking about the United States having more wealth and income inequality than any other major country on earth and we are going to change that."
Bernie Sanders, Sanders Campaign Press Release - Sanders West Coast Swing Taps Grassroots Surge Online by Gerhard Peters and John T. Woolley, The American Presidency Project https://www.presidency.ucsb.edu/node/326262