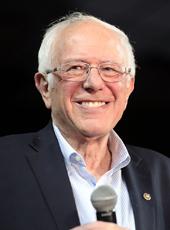 Sanders Campaign Press Release - Sanders Welcomes Supreme Court Ruling on Same-Sex Marriage
DES MOINES – Democratic presidential candidate Bernie Sanders, a long-time advocate for gay rights, said on Sunday that the U.S. Supreme Court last month correctly ruled that that there is a constitutional right for same-sex couples to marry in all 50 states.
"I strongly support what the Supreme Court did," Sanders said when asked about the June 26 ruling during an interview with Jake Tapper on CNN's "State of the Union."
In 1996, as Vermont's member of Congress in 1996, then-Rep. Sanders was in the minority of lawmakers who voted against the so-called Defense of Marriage Act. The law signed by then-President Bill Clinton denied federal benefits to gays who were legally married.
Sanders previously had voted in 1993 against the now-abandoned U.S. military policy which barred gays from serving openly in the armed forces. In 2010, he voted in the Senate to repeal the discriminatory policy known as "Don't Ask Don't Tell."
Sanders also supported Vermont's civil unions law in 2000, and he was an outspoken proponent of gay marriage before the Legislature in his home state in 2009 passed one of the nation's first same-sex marriage laws.
On CNN, Sanders replied to a question about the Supreme Court ruling after Tapper noted, "You've been way out in front when it comes to the rights of same-sex couples."
Said Sanders: "My view is that people have a right to love each other, regardless of one's sexual orientation. I voted against the DOMA Act, the so-called Defense of Marriage Act way back in 1996 that was signed by President Clinton, because I think if people are in love they should be able to get married in this country in 50 states in America. And I strongly support what the Supreme Court recently said," Sanders told CNN.
Tapper asked the senator whether tax exemptions should be taken away from any organizations, including religious organizations, which do not recognize same-sex marriage. "I don't know that I would go there. You know, we have religious freedom and I respect people who have different points of view."
Sanders' outspoken support for gay rights dates back to at least as long ago as 1983 when, as the mayor of Burlington, Vermont, he supported a then-controversial resolution designating that June 25 as Lesbian and Gay Pride Day. According to a recent report in the Vermont newspaper Seven Days, opposition to the proposal "was strong — and, in some instances, vitriolic," but Sanders indicated at the City Council meeting that he would sign the proclamation. "In the city of Burlington and in the state of Vermont, people have the right to exercise their lifestyles," Sanders said. "It's an American right, anyone's right to have a march… This is a civil liberties question."
Bernie Sanders, Sanders Campaign Press Release - Sanders Welcomes Supreme Court Ruling on Same-Sex Marriage Online by Gerhard Peters and John T. Woolley, The American Presidency Project https://www.presidency.ucsb.edu/node/315171