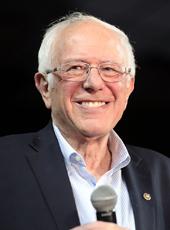 Sanders Campaign Press Release - Sanders: We Must Increase Voter Turnout, Not Suppress It
ROCK HILL, S.C. – Calling Republicans political cowards for passing laws to drive down voter turnout, U.S. Sen. Bernie Sanders on Friday said that he would back measures to guarantee the right to vote for every eligible American.
In a country where Election Day turnout has shrunk to record lows, Sanders said that he would look at every option, including a constitutional amendment, which would guarantee the right to vote to all Americans over the age of 18.
"We have got to end this outrageous voter suppression which is taking place in dozens of states – efforts that are intentionally denying low-income people, people of color and seniors the ability to participate in the political process," he added. "As president, my job will be to increase voter turnout, not decrease it. My job will be to see that the United States has one of the highest voter turnouts in the world, not one of the lowest."
Sanders' push for greater voter participation comes at a time when Republican-controlled state legislatures in many states have passed laws making it harder to vote by erecting roadblocks to registration like requiring a photo ID or making it harder for students to vote.
"Anybody who is suppressing the vote, who is intentionally trying to keep people from voting is a political coward," Sanders said.
In South Carolina, Gov. Nikki Haley signed legislation in 2011 that requires voters to show a photo ID in order to vote.
When the governor signed the law, some 178,000 South Carolina voters lacked driver's licenses or other photo identification issued by the state Department of Motor Vehicles. An Associated Press analysis found the law especially impacted African-American voters. Former NAACP President Ben Jealous called the law "little more than a 21st Century poll tax."
The U.S. Justice Department tried to block the law that South Carolina nevertheless was allowed to enforce after a 2013 U.S. Supreme Court gutted the federal Voting Rights Act.
Sanders, who has drawn large and enthusiastic crowds at rallies across the country, said increasing turnout is the key to Democratic chances of success. "In my view, Democrats will not retain the White House, will not regain the Senate, will not gain the House and will not be successful in dozens of governor's races unless we run a campaign which generates excitement and momentum and which produces a large voter turnout. Democrats win when the turnout is high. Republicans win when the turnout is low."
Watch Sanders speak about voter suppression at the 2015 Southern Regional Meeting of the National Federation of Democratic Women at Winthrop University:
Bernie Sanders, Sanders Campaign Press Release - Sanders: We Must Increase Voter Turnout, Not Suppress It Online by Gerhard Peters and John T. Woolley, The American Presidency Project https://www.presidency.ucsb.edu/node/314601