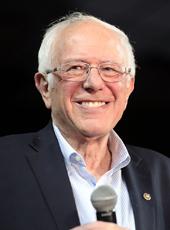 Sanders Campaign Press Release - Sanders Volunteers Plan More than 3,000 House Parties
WASHINGTON – Volunteers for Bernie Sanders have organized more than 3,000 grassroots gatherings on Wednesday in homes, coffee shops and union halls in all 50 states.
"What we are trying to do, as part of creating a political revolution, is to create a grassroots movement of millions of people," Sanders told The Washington Post. "We hope to have tens of thousands of people coming together to determine how they can develop movements in their local community."
Speaking Wednesday night from a house party in southwest Washington, D.C, Sanders will thank supporters and talk about ways they can help build a political revolution. Bernie's remarks on BernieSanders.com will be live streamed for the meetings in thousands of homes and other meeting locations. Larry Cohen, the past president of the Communications Workers of America, also will be online to help launch the volunteer organizing drive.
"This campaign is not simply about electing me, I hope we accomplish that but that isn't the most important thing," Sanders said. "The most important thing is building a political movement in which millions of people who have given up on the political process, including a lot of young people, get involved."
The online volunteer parties are designed to build on the tremendous turnouts at Sanders' rallies around the country, including more than 11,300 in Phoenix, a record for any candidate, and 4,500 on Sunday night at the Ponchatrain Center near New Orleans.
More than 82,000 people have indicated that they plan to attend one of the more than 3,000 simultaneous local organizing meetings. (See the map for events nationwide.) "Our opponents have the billionaires on their side, but we have the people—if you bring them," campaign manager Jeff Weaver wrote in an email to supporters urging them to attend.
Grassroots organizing on this scale this early in a campaign has never before been undertaken by a presidential campaign. In his first run for the White House, Barack Obama hosted 4,000 online house parties in June of 2008, just a few months before Election Day.
As planning for the house parties ramped up this week, students at a Seattle community college came up with the idea of giving everyone a pocket constitution and packet on Bernie's platform. A group in Texas is cooking up Briskets and Biscuits for Bernie.
Bernie Sanders, Sanders Campaign Press Release - Sanders Volunteers Plan More than 3,000 House Parties Online by Gerhard Peters and John T. Woolley, The American Presidency Project https://www.presidency.ucsb.edu/node/314281