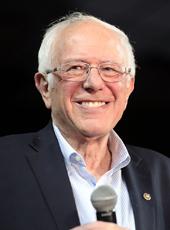 Sanders Campaign Press Release - Sanders on Trump: Bring Him On
Sanders

Sanders 48, Trump 42 (+6)

Sanders 49, Cruz 39 (+10)

Sanders 47, Rubio 41 (+6)

Sanders 49, Bush 39 (+10)

Sanders 45, Kasich 41 (+4)
Clinton

Clinton 44, Trump 43 (+1)

Clinton 43, Cruz 46 (-3)

Clinton 41, Rubio 48 (-7)

Clinton 43, Bush 44 (-1)

Clinton 39, Kasich 47 (-8)
GREENVILLE, S.C. – Bernie Sanders told more than 5,200 supporters at a rally on Sunday that he would relish the chance to run against Donald Trump, the Republican front-runner who trails Sanders in national polls but notched a win in his party's primary fight here on Saturday.
"This is a campaign that has the momentum not only in the Democratic Party primary process but if you want a candidate who is going to defeat Donald Trump, you're looking at him," Sanders said. "There would be nothing that would give me greater pleasure than in fact beating Donald Trump."
American voters back Sanders over Republican White House hopefuls by as much as 10 percentage points, according to a Quinnipiac University national poll released last Thursday. Sanders led Trump by six points. Hillary Clinton, in sharp contrast, trails or ties leading Republicans. The Quinnipiac poll found Clinton edged Trump by only 1 percent.
"It's certainly Sen. Bernie Sanders' moment. The Vermont firebrand leads all potential GOP rivals in raw numbers and raw emotion with the best scores for favorability and several key character traits," Tim Malloy, assistant director of the Quinnipiac University Poll, said in a news release. The independent pollster said Sanders has the highest favorability rating of any candidate and the highest scores for honesty and integrity, for caring about voters' needs and  problems and for sharing voters' values.
At the biggest South Carolina rally ever for Sanders, he also talked about how he overcame long odds to tie Clinton in Iowa on Feb. 1, defeat her by 22 points in New Hampshire on Feb. 9 and finish much closer than expected in Saturday's Nevada caucuses. "A lot has changed in the last nine months," Sanders said.
The growing momentum for his campaign also has been reflected in growing financial support. "One of the most amazing things that has happened in a very long time in American politics is that over the past nine months what we have seen is that our campaign has received 4 million individual campaign contributions. That is more campaign contributions than any campaign in the history of America at this point," Sanders said.
Bernie Sanders, Sanders Campaign Press Release - Sanders on Trump: Bring Him On Online by Gerhard Peters and John T. Woolley, The American Presidency Project https://www.presidency.ucsb.edu/node/314294