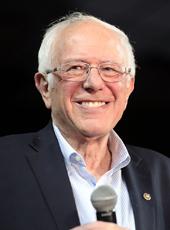 Sanders Campaign Press Release - Sanders Tells LA Coliseum Rally He is Best Choice to Defeat Trump
LOS ANGELES - From a stage framed by a burning torch atop Memorial Coliseum's giant arch, U.S. Sen. Bernie Sanders told a Saturday night rally that he is the Democrats' best choice to defeat Republican Donald Trump this November.
Sanders addressed more than 13,500 cheering supporters sprawled on the coliseum's Olympic Plaza on the final weekend before California Democrats go to the polls to elect 475 pledged delegates.
In a state that has experienced a record surge in voter registration, Sanders held a 44 percent to 43 percent lead over Clinton in a new USC/Los Angeles Times poll released on Friday. That was a nine-point swing in Sanders favor since the same survey was conducted in March.
Like national and state polls across the United States, the California poll also showed Sanders with much greater support than Clinton in general election matchups with Trump.
"I hope that the delegates going to the Democratic National Convention understand that in virtually every state poll we do much better against Donald Trump than Secretary Clinton," Sanders said. "If the delegates at the Democratic National Convention want to make sure we defeat Trump and defeat him badly we are the candidate to do that."
It's not just the polls, Sanders added. Since mid-May, he has drawn more than 211,000 Californians to hear him at rallies that are far bigger and more boisterous than Clinton's.
"Our campaign has he energy, the grassroots activism to make certain that in November we have a large voter turnout. And when people have something to vote for rather than just against, progressives and Democrats win."

When people have something to vote for rather than just against, progressives and Democrats win. - Sen. Sanders

Earlier Saturday, Sanders told a news conference that he will carry his campaign all the way to the Democratic convention at Philadelphia in July. He said neither he nor Clinton will have won enough pledged delegates to clinch the nomination by the end of the primary and caucuses on June 14.
"It is extremely unlikely that Secretary Clinton will have the requisite number of pledged delegates to claim victory on Tuesday night," Sanders said. "Now I have heard reports that Secretary Clinton has said it's all going to be over on Tuesday night. I have reports that the media, after the New Jersey results come in, are going to declare that it is all over. That simply is not accurate.
"In other words," he added, "the Democratic National Convention will be a contested convention."
Bernie Sanders, Sanders Campaign Press Release - Sanders Tells LA Coliseum Rally He is Best Choice to Defeat Trump Online by Gerhard Peters and John T. Woolley, The American Presidency Project https://www.presidency.ucsb.edu/node/317599