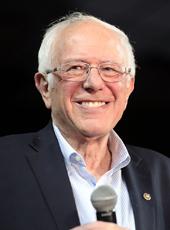 Sanders Campaign Press Release - Sanders Talks Trade and Jobs in Tar Heel State
RALEIGH, N.C. – Bernie Sanders told thousands of supporters here on Friday that "we have lost millions of decent-paying jobs in this country" because of bad trade deals that hurt North Carolina more than other states.
Sanders' campaign is hammering home the case on trade in new television ads which began to air on Friday in North Carolina and Illinois, another trade-battered state with shuttered factories and mills.
"Our disastrous trade policies for the past 30 or 40 years have had a horrendous impact on the lives of millions of working Americans," Sanders told the crowd of 2,500 supporters filling the Raleigh Memorial Auditorium. In an overflow area outside, another 3,000 people, some of them climbing up trees to get a better view, heard from Sanders.
"I understood way back in the early 1990s what these trade agreements were about," Sanders said. "Hillary Clinton, on the other hand, supported virtually all of these disastrous trade agreements."
The new TV ads echo the point. "While his opponent has flip-flopped on trade deals, Bernie has fought them and stood with American workers," the narrator says in the spot running in North Carolina. "He'll take on Wall Street and their trade deals because he doesn't take their money."



Trade policy was a major factor for voters in Michigan, where Sanders scored an upset victory in Tuesday's Democratic primary. The North American Free Trade Agreement led to the loss of 43,000 jobs and permanent normal trade relations with China put another 80,000 workers out of work. Sanders won 56 percent of Michigan voters who believed trade with other countries takes away American jobs, according to CNN's exit polls.
North Carolina has lost more than 361,000 manufacturing jobs – nearly half of its manufacturing jobs – since NAFTA and permanent normal trade relations with China took effect.
In Illinois, where a version of the ad also will air, NAFTA has been blamed for the loss of 35,000 jobs. permanent normal trade relations with China, also supported by Clinton, led to the loss of 3.2 million jobs, including 132,000 in Illinois. "Now the Trans-Pacific trade deal could cost America 448,000 more jobs," the spot says. "Only one candidate for president has opposed every disastrous deal: Bernie Sanders."
Meanwhile, Sanders picked up a key endorsement in North Carolina from Dr. John Boyd, Jr., founder and president of the National Black Farmers Association. Sanders and Boyd met before the rally.
To watch "Disastrous Trade Deals," click here

To watch "Stood With American Workers," click here.
Bernie Sanders, Sanders Campaign Press Release - Sanders Talks Trade and Jobs in Tar Heel State Online by Gerhard Peters and John T. Woolley, The American Presidency Project https://www.presidency.ucsb.edu/node/314295