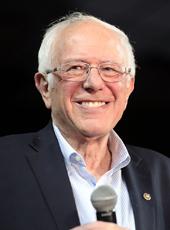 Sanders Campaign Press Release - Sanders Takes Campaign to Maine, Michigan after Big Wins on Super Tuesday
PORTLAND, Maine – Bernie Sanders flew to this seacoast city on Wednesday and was headed later in the day to delegate-rich Michigan to carry on a White House campaign one day after what he called an "extraordinary" Super Tuesday.
"We were up against the candidate supported by the entire political establishment, someone who had been anointed by the pundits," he said of Hillary Clinton. "Well guess what? It doesn't look like she's so inevitable now," he said as he was drowned out by cheers in Portland's historic State Theater.
Sanders defeated Clinton by large numbers in New England, the Midwest, the Rocky Mountains and the Southwest, parts of the country where Democrats must prevail in November if the party is to retain the White House and make gains in Congress and statehouses.
In New England, Sanders won his home state of Vermont with 86 percent of the vote, a margin so big he locked up the support of all 16 pledged delegates. That put New England solidly in the Sanders' column when the result there is combined with the outcome in neighboring Massachusetts, where a virtual tie on Tuesday left him with 43 pledged delegates to her 45, on top of his 22-point Feb. 9 victory in New Hampshire.
Sanders also scored double-digit victories on Tuesday in the Midwest, where he took on Clinton and the Minnesota political establishment and won by 24 points, and in Colorado, where he won by 19 points, and in Oklahoma, where he defeated Clinton by 10 points.
The same political pundits who had counted Sanders out since his campaign began 10 months ago interpreted Tuesday's turnout as another signal that Clinton would prevail. So Sanders said he "was very excited" when he read in The Washington Post on Wednesday that "all of the pundits" once again called the race for Clinton. "That means we're probably going to win in a landslide," he told the 1,784 supporters inside the theater and 650 others who the fire marshal said watched from an overflow area.
Maine Democrats will go to caucuses this coming Sunday afternoon. "If we win Maine, we move another step forward toward a political revolution in this country, a process that not only elects a president but transforms America. That's what this campaign is about," Sanders said
Sanders also planned a big rally later on Tuesday in Lansing, Michigan. Voters go to the polls next Tuesday in the state, where job-killing trade policies which Sanders opposed and Clinton backed have cost manufacturing jobs and shuttered factories.
Sanders began the day in Burlington, Vermont, where he woke up to a "Hometown Hero" headline in the Burlington Free Press. He won 86 percent of the vote in the Green Mountain State, enough to secure all of the state's 16 pledged delegates.
Bernie Sanders, Sanders Campaign Press Release - Sanders Takes Campaign to Maine, Michigan after Big Wins on Super Tuesday Online by Gerhard Peters and John T. Woolley, The American Presidency Project https://www.presidency.ucsb.edu/node/315014