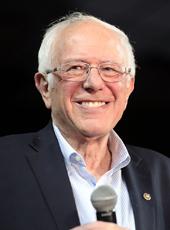 Sanders Campaign Press Release - Sanders Supports President Obama on Gun Safety
TOLEDO, Iowa – U.S. Sen. Bernie Sanders on Friday reiterated his support for President Barack Obama's executive actions on gun safety.
"Senator Sanders strongly supports the president's executive actions on gun safety," said Jeff Weaver, Sanders' campaign manager. Throughout his career in Congress, Sanders has voted for strong gun safety measures, including a ban on assault weapons, improved background checks and eliminating the gun-show loophole. As the senator has said before, he thinks Congress should re-examine a law on manufacturers' liability, Weaver added.
"Bernie has been a consistent supporter of gun safety legislation since he lost his first bid for Congress in a campaign in which he supported an assault weapons ban. The National Rifle Association has given him grades of D- and F.
"Former Secretary of State Hillary Clinton, on the other hand, has a record of flip flops on – among other issues – gun safety," Weaver added. "Today she's attacking Bernie on guns. Eight years ago she attacked Barack Obama on guns."
When she was a candidate for the Senate in 2000, she said she favored licensing everyone who buys a gun and establishing a registry of all handgun sales. But by the time she was running president in 2008, she said that federal "blanket rules" on guns no longer made sense to her.
At one point in that 2008 campaign, she even attacked then-Sen. Barack Obama as "elitist and out of touch" over what she called his "demeaning remarks" about gun owners. In fact, she even sent out a pamphlet attacking Obama for being too strong on gun control. He reacted to her over-the-top rhetoric by accusing her of acting like "Annie Oakley … packin' a six-shooter."
"Maybe Secretary Clinton should apologize for attacking the president in 2008 because he was too strong on gun control," Weaver said. "As is the case with so many issues on which she has flip flopped, voters have to ask themselves which Hillary Clinton is asking for their vote," Weaver added.
To read a Clinton attack on Barack Obama on guns, click here.

To watch Obama talk about Clinton and guns, click here.
Bernie Sanders, Sanders Campaign Press Release - Sanders Supports President Obama on Gun Safety Online by Gerhard Peters and John T. Woolley, The American Presidency Project https://www.presidency.ucsb.edu/node/314174