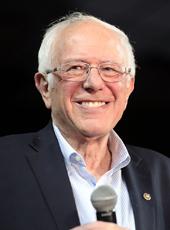 Sanders Campaign Press Release - Sanders: Stop the Wall Street to Washington Revolving Door


BURLINGTON, Vt. – U.S. Sen. Bernie Sanders on Friday said he would stop the revolving door between Wall Street and the federal government.
He cited Goldman Sachs' deal this week to pay a $5 billion fine for bogus marketing schemes on home mortgages during the financial crisis seven years ago as the latest example of the need for independent regulators and prosecutors.
"The $5 billion settlement with Goldman Sachs should make it clear to everyone that the business model on Wall Street is fraud. In my view, the time has come to shut the revolving door between Wall Street and the federal government. Goldman Sachs and other Wall Street banks will not be represented in my administration," Sanders said.
"Instead, we need federal prosecutors and regulators with a clear track record of standing up to the greed, recklessness and illegal behavior on Wall Street," added Sanders, who is seeking the Democratic Party nomination for president.
Wall Street's undue influence in both Republican and Democratic administrations is exemplified by two recent Treasury secretaries who have held posts in and out of Washington and Wall Street. In 1995, Robert Rubin, the former co-chairman of Goldman Sachs, became the Treasury secretary. In 1999, Rubin left to become a director and senior counsel of Citigroup. In 2006, Henry Paulson left his job as chairman of Goldman Sachs to become Treasury secretary. In 2008, Paulson asked Congress to pass legislation giving him a blank check of $700 billion to bailout Wall Street.
"Under my administration, top executives of Goldman Sachs and other Wall Street CEOs will no longer go through the revolving door from Wall Street to government," Sanders said.
Sanders pledge to fill financial posts with regulators who are not beholden to Wall Street came as he made the case for his sweeping plan to rein in the greed of the nation's biggest financial institutions. In laying out the proposal during a major speech last week in New York, Sanders pledged to break up the biggest banks. He also advocated restoring the post-Depression Glass-Steagall Act to prevent Wall Street speculators from crashing the economy. He also said his administration will cap credit card interest rates and ATM fees, allow post offices to offer basic banking services and reform the Federal Reserve to focus on its mandate to promote full employment.
Sanders plan is backed by some 170 economists and other experts, including former Labor Secretary Robert Reich, University of Texas Professor James K. Galbraith and Dean Baker, co-director of the Center for Economic and Policy Research in Washington, DC.
Bernie Sanders, Sanders Campaign Press Release - Sanders: Stop the Wall Street to Washington Revolving Door Online by Gerhard Peters and John T. Woolley, The American Presidency Project https://www.presidency.ucsb.edu/node/314399