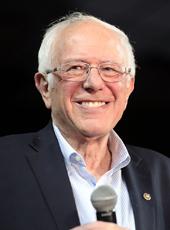 Sanders Campaign Press Release - Sanders Spotlights Clinton's Record on Bad Trade Deals

YOUNGSTOWN, Ohio – U.S. Sen. Bernie Sanders stressed his "profound and important differences" with Hillary Clinton on disastrous trade deals as he kicked off a four-state, six-city campaign swing on Monday.
Sanders said manufacturing declined and jobs disappeared across the Midwest due to trade pacts she favored and he fought.
Sanders led opposition to the North American Free Trade Agreement, normalized trade with China and other agreements that Clinton favored. Since 2001, the United States lost almost 60,000 factories and millions of decent-paying jobs.
"I proudly stood with the workers. Secretary Clinton stood with the big-money interests," Sanders told supporters in this Mahoning River Valley city where steel mills once were the backbone of a strong middle-class economy.
Sanders' day began in Columbus, Ohio. After the stop in Youngstown, he headed to Akron, Ohio, best known for its tire industry. Later on Monday, Sanders scheduled stops in Charlotte, North Carolina, once home to a vibrant textile industry. The packed schedule also included an afternoon stop in St. Charles, Missouri. He was to cap the long day with a late-night rally in Chicago, once a steel and manufacturing hub.




Ohio has lost more than 300,000 manufacturing jobs – nearly one-third of the factory jobs in the state – since NAFTA passed over Sanders' opposition but with Clinton's outspoken support. Normalized trade with China cost Ohio more than 106,000 jobs.
North Carolina has lost more than 361,000 manufacturing jobs – nearly half of its manufacturing jobs – since NAFTA and permanent normal trade relations with China took effect.
In Illinois, NAFTA has been blamed for the loss of 35,000 jobs. Permanent normal trade relations with China, also supported by Clinton, led to the loss of 132,000 jobs in the state.
Missouri has lost over 105,000 manufacturing jobs – over 29 percent of factory jobs – since NAFTA. Normalized trade with China caused the loss of more than 44,000 jobs in Missouri.
Sanders also has been a long-time and consistent foe of a proposed new Pacific Rim trade deal which would be the largest such pact ever. When Clinton was secretary of state she heaped praise on the proposed Trans-Pacific Partnership. She called it the "gold standard." Under pressure from unions which uniformly oppose the deal, Clinton has backpedaled and has called for vague revisions in the deal.
Bernie Sanders, Sanders Campaign Press Release - Sanders Spotlights Clinton's Record on Bad Trade Deals Online by Gerhard Peters and John T. Woolley, The American Presidency Project https://www.presidency.ucsb.edu/node/326235