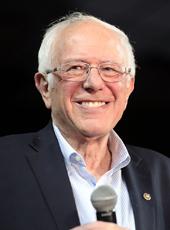 Sanders Campaign Press Release - Sanders Speaks at Brookland Baptist Church




U.S. Sen. Bernie Sanders confers with the Rev. Charles Jackson during an luncheon on Sunday at Brookland Baptist Church in Columbia, South Carolina.

COLUMBIA, S.C. – U.S. Sen. Bernie Sanders was the guest of the Rev. Charles Jackson at a lunch with Brookland Baptist Church members on Sunday.
"Sen. Sanders, we are so appreciative of you stopping by to see us today," the pastor said before introducing the senator.
With Democratic voters headed to the polls here in just six days, Sanders told the congregation that "the country will be looking at South Carolina," and added, "I'm here to ask your help to help lead this country to a political revolution in which ordinary people will be represented in Washington, not just a handful of wealthy campaign contributors."
During brief remarks, Sanders touched on the economy and criminal justice reform.
Turning to civil rights and criminal justice, Sanders said the United States leads the world in the number of inmates behind bars. "We have in America today a broken criminal justice system. We should not be having more people in jail, largely African-American and Latino, than any other country on earth. We are going to invest in education and jobs, not more jails," he said. Sanders' criminal justice reform proposals include ensuring that police forces reflect the diversity of their communities, eliminating for-profit prisons, ending mandatory minimum sentencing and giving judges more leeway in sentencing.
Sanders was joined at the church by Rep. Terry Alexander from Florence, South Carolina. Alexander was among the earliest Sanders supporters in the Palmetto State. Also accompanying Sanders at the church was Ben Jealous, the former president of the NAACP and a prominent Sanders supporter.
Watch the remarks:

Bernie Sanders, Sanders Campaign Press Release - Sanders Speaks at Brookland Baptist Church Online by Gerhard Peters and John T. Woolley, The American Presidency Project https://www.presidency.ucsb.edu/node/315486