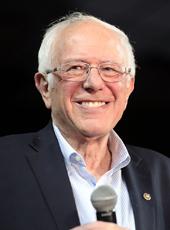 Sanders Campaign Press Release - Sanders at Southern Illinois University Calls for Tuition-Free Public Colleges and Universities
EDWARDSVILLE, Ill. – U.S. Sen. Bernie Sanders on Friday focused on college affordability as he appealed to St. Louis-area voters on both sides of the Mississippi River in Illinois and Missouri.
Both states will hold primary elections on March 15 to vote on their choice for the Democratic Party presidential nominee.
Nearly 5,200 people surrounded Sanders in the jam-packed Sam M. Vadalabene Center at Southern Illinois University. Before the rally, the senator went outdoors to address another 2,000 supporters who were still waiting in a mile-long line when the doors were closed.
Sanders' stop at the public university in downstate Illinois came as state lawmakers remained gridlocked with the Republican governor over a higher education budget crisis. In his remarks to the mostly-student audience at SIU, Sanders focused on his proposal for tuition-free public colleges and universities.
In the U.S. Senate, Sanders is the chief sponsor of legislation to make 4-year public colleges and universities tuition-free. Under his bill, $70 billion a year in assistance – two-thirds from the federal government and one-third from states – would replace what public colleges and universities now charge in tuition and fees.
The federal share of the cost would be offset by imposing a tax on Wall Street transactions by investment houses, hedge funds and other speculators. Read more here. Sanders said the tax on speculation also would help reverse a decades-long trend in the United States where the middle class has shrunk and the wealth and income gap has grown.
"In the past 30 years in this country there has been a massive redistribution of wealth," Sanders told the university audience. "The middle class has shrunk. Trillions of dollars have left the middle class and gone to the top one-tenth of 1 percent."
Bernie Sanders, Sanders Campaign Press Release - Sanders at Southern Illinois University Calls for Tuition-Free Public Colleges and Universities Online by Gerhard Peters and John T. Woolley, The American Presidency Project https://www.presidency.ucsb.edu/node/314431