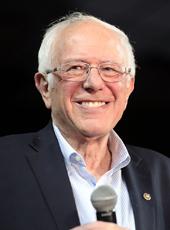 Sanders Campaign Press Release - Sanders Schools Trump on Climate Change in California
MODESTO, Calif. - Calling Donald Trump "a climate change denier," U.S. Sen. Bernie Sanders on Thursday said bold action is needed to combat the planetary crisis that the Republican White House hopeful dismisses as a "hoax."
At a news conference, Sanders also challenged Hillary Clinton to join him in supporting a carbon tax to limit burning the fossil fuels that scientists blame for climate change.
And Sanders urged his rival in Tuesday's California primary to support his call for a nationwide ban on fracking to further reduce greenhouse gas emissions.
"This is a crisis of unbelievable magnitude," Sanders said of climate change. "Burying our heads in the sand and taking contributions from the fossil fuel industry is not going to solve this problem," he said.
"I urge Secretary Clinton to appreciate the severity of the crisis and join me in telling the fossil fuel industry that yes there will be a tax on carbon," the Vermont senator added.
Sanders spoke at a news conference here in California, where a devastating five-year drought has resulted in severe water shortages, dangerous wildfires and massive heat waves.
Trump, who is poised to become the Republican Party presidential nominee, has asserted that there is no drought in California. He also has called climate change a hoax perpetrated by the Chinese. "This is so ludicrous that it really would be funny if the future of the planet were not at stake," Sanders said.

Sanders has proposed a comprehensive plan to tackle the worst effects of climate change. He has introduced legislation in the Senate to put a tax on carbon and cut emissions by 80 percent by 2050 from 1990 levels.
Sanders news conference was held before he spoke to 2,500 supporters at a rally in the Modesto Centre Plaza. It was the 28th rally his campaign has staged in California since May 9 in Sacramento where he began a drive to speak directly to a quarter-million Californians in advance of Tuesday's primary.
To read Sanders' climate change plan, click here.
Bernie Sanders, Sanders Campaign Press Release - Sanders Schools Trump on Climate Change in California Online by Gerhard Peters and John T. Woolley, The American Presidency Project https://www.presidency.ucsb.edu/node/317695