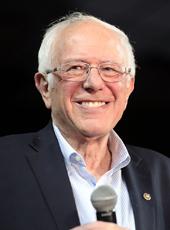 Sanders Campaign Press Release - Sanders Says Trump Instigating Violence

COLUMBUS, Ohio – Bernie Sanders on Sunday said Donald Trump was instigating violence at political rallies. "You don't go around saying that it's ok to beat somebody up and I'll pay the legal fees," Sanders told a boisterous but peaceful rally of 7,500 at Ohio State University.
Trump claims he doesn't condone violence but on Sunday said he may cover legal costs for a man charged last week with assault and battery for sucker-punching a protester at a Trump rally. The man also has said that he might kill a protester next time.
"A candidate for president of the United States should condemn violence not encourage violence," Sanders said. "That is not what this country is about."
During a rally in the arena where the Ohio State Buckeyes play, Sanders also highlighted Hillary Clinton's support for job-killing trade deals which have battered Ohio's manufacturing economy.





"Since 2001, this country has lost almost 60,000 factories and millions of decent-paying jobs," said Sanders, who led the opposition to the North American Free Trade Agreement and normalized trade with China. "I'm sorry to have to tell you that Secretary Clinton has had a very different position on trade," Sanders said. "She supported trade agreements that have cost us millions of decent-paying jobs while corporate America has made huge profits."
When Clinton was secretary of state she praised the proposed Trans-Pacific Partnership as the "gold standard" for such pacts, but on Saturday she called for vague revisions in the deal with 12 Pacific Rim nations. "That's fine," Sanders said, "but it doesn't go anywhere far enough. Our job is to kill this disastrous trade agreement and start all over creating trade agreements that work for workers in this country and poor people abroad, not just the CEOs of multi-national corporations."
Meanwhile, Sanders reached out to young voters here and elsewhere after an Ohio judge ruled last Friday that 17-year-olds could cast ballots in the presidential race. Sanders had challenged the Ohio secretary of state in a federal court lawsuit against the voter suppression effort.
Sanders' campaign on Sunday launched a web ad targeted at young voters in Ohio, Illinois and North Carolina, all states where 17-year-olds may vote on Tuesday if they will turn 18 by Election Day in November.
To watch the ad, click here.
Bernie Sanders, Sanders Campaign Press Release - Sanders Says Trump Instigating Violence Online by Gerhard Peters and John T. Woolley, The American Presidency Project https://www.presidency.ucsb.edu/node/326247