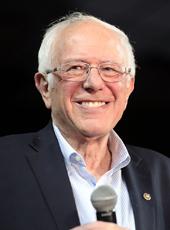 Sanders Campaign Press Release - Sanders: Ramadi a Model for Destroying ISIS
MUSCATINE, Iowa – U.S. Sen. Bernie Sanders called the Iraqi army's recapture of a provincial capital once controlled by Islamic State militants a model for how the United States can support Muslim nations and defeat the terrorist group.
"The goal of U.S. foreign and military policy must be to destroy ISIS, but to do it in a way that does not get American troops involved in perpetual warfare in the Middle East. Our goal must be to establish a strong international coalition – made up of our Muslim allies and major powers such as France, the United Kingdom, Germany and Russia as well as the United States," Sanders said at a town-hall meeting here in southeastern Iowa.
"In an area of the world where there is scant good news, we have seen a very positive development in the last few days. Iraqi armed forces, with the support of U.S. air attacks, fought effectively and drove ISIS out of Ramadi, the capital of Anbar province.
"In fact, in the past year, ISIS has lost 40 percent of the territory it once controlled in Iraq," Sanders added.
"As King Abdullah of Jordan has stated forcefully, the struggle against ISIS must be won on the ground by Muslim nations who are fighting for the soul of Islam against those who have hijacked their religion. What happened in Ramadi is a model for the most effective way that the United States and our allies can destroy ISIS and its barbaric ideology," the senator said.
Sanders comments on the Middle East came during a town meeting held in the Muscatine High School auditorium. It was the first stop of a three-day visit to Iowa.
Watch the video:
Bernie Sanders, Sanders Campaign Press Release - Sanders: Ramadi a Model for Destroying ISIS Online by Gerhard Peters and John T. Woolley, The American Presidency Project https://www.presidency.ucsb.edu/node/315429