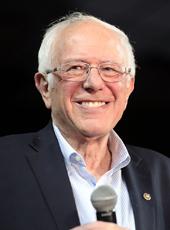 Sanders Campaign Press Release - Sanders' Pledged Delegate Total Now 1,088
BURLINGTON, Vt. – Ahead of Saturday's Wyoming caucuses, U.S. Sen. Bernie Sanders' presidential campaign announced a pledged delegate total of 1,088 and released an expanded list of superdelegate supporters. The announcement is one of the many signs of the momentum building behind his grassroots campaign, including a decisive 14-point victory in Wisconsin. The senator from Vermont has now won seven out of eight primaries and caucuses.
"Sen. Sanders won these recent contests by large and impressive margins," said Jeff Weaver, Sanders' campaign manager. "As a result, we have cut Secretary Clinton's delegate lead by 101 since March 15, which amounts to one-third of her then-total margin. That dramatic gain leaves us only 214 delegates behind — a margin we can and fully intend to surpass by the conclusion of voting on June 14."
Sanders' campaign released a state-by-state delegate count that more accurately reflects the state of the race than many media reports. The discrepancy in most reports stem from the failure to account for Sanders' large victory in Washington, county level victories in the Nevada caucuses and final vote counts in Arizona. In fact, in Nevada Sanders now has a three delegate lead on Clinton.
"As we have pointed out since Iowa, the enthusiasm and commitment of Sen. Sanders' supporters will enable us to add delegates to our total in many caucus states as the process moves from precinct to county and then to the final state and congressional district level," Weaver said. "There is no better example than the state of Nevada, where last weekend Bernie Sanders gained four delegates at county caucuses with a decisive 55 to 45 percent victory in Clark County."
The campaign also released a list of 38 superdelegates who support Sanders.
"Ten additional superdelegates have announced their support for in the last three weeks. We believe this number will continue to climb as it becomes clear that Sen. Sanders will be the strongest Democratic nominee to defeat Donald Trump or whoever the Republicans decide to nominate," Weaver said.
The latest superdelegate to announce support for Sanders is Wisconsin Democratic Party Vice Chair and state Rep. David Bowen.
Bowen announced his support the day after Sanders' big win in Wisconsin saying, "As a superdelegate that represents Wisconsin Democrats, Wisconsin Democrats have decided by 14 point margin that they desire the political revolution Bernie Sanders speaks about. I am honored to endorse the senator and to work with the campaign in amplifying its message that has taken a hold in Wisconsin. "
"We believe any accurate read of pledged delegate counts show that Sen. Sanders is closing fast on Secretary Clinton and that neither candidate will have a pledged delegate majority of 2,383 at the conclusion of voting. Democrats are going to have a clear choice at our convention and we intend to win," Weaver said.
To see a state-by-state tally of Sanders' pledged delegate total, click here.

To see a full list of publicly announced Sanders' superdelegates, click here.
Bernie Sanders, Sanders Campaign Press Release - Sanders' Pledged Delegate Total Now 1,088 Online by Gerhard Peters and John T. Woolley, The American Presidency Project https://www.presidency.ucsb.edu/node/317360