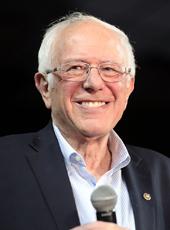 Sanders Campaign Press Release - Sanders at Pine Ridge Reservation Calls for 'New Relationship' with Native Americans
PINE RIDGE, S.D. - Calling for "a new relationship with the Native American people," U.S. Sen. Bernie Sanders on Thursday came to this Oglala Lakota reservation to put a spotlight on poverty and to detail proposals to create jobs, raise wages and reduce growing wealth and income inequality in America.
"There is a lot of pain in the community," Sanders told a forum that focused on poverty, inadequate health care and schools. "We've got a lot of work to do but nothing ever good happens if people give up. You've got to stand up and be involved in the political process."
"The reason we are here today is to try to understand what is going on in Pine Ridge and other reservations," Sanders said. "There are a lot of problems here. Poverty is much too high. There are not enough decent jobs in the area. The health care system is inadequate. And we need to fundamentally change the relationship between the U.S. government and the Native American community."
The reservation sprawls across three counties that are among the poorest in the United States. Forty-nine percent of residents in Pine Ridge live below the poverty line including 61 percent of those under the age of 18. Per capita annual income is just $6,286. The infant mortality rate on the reservation is five times greater than the national average. Life expectancy is just 48 years for men and 52 for women. The high school dropout rate is 70 percent and the teacher turnover rate is eight times the national average.

"In America today, we have a massive level of income and wealth inequality. We are living in a country where some people have unbelievable wealth but a lot of other people are living in dire poverty," Sanders said.
He called for a federal jobs program to put millions of people back to work. He has introduced legislation to create 13 million good-paying jobs by investing $1 trillion in repairing the nation's crumbling roads, bridges, water systems, schools and other infrastructure projects.
Sanders also said the federal minimum wage should go up. "In America today, many people are working for wages that are much too low. That is why we have to raise the minimum wage to $15 an hour," he said.
Told that the Indian Health Service is a "failure," Sanders called for the United States to join the rest of the industrialized world and provide health care as a right for all Americans. He also said he would lower sky-high prices for prescription drugs and push for tuition-free public colleges and universities.
Speaking at the site of the Wounded Knee massacre in 1890, Sanders said the United States and Native Americans must develop "a new relationship." He added, "We owe a debt of gratitude that can never be repaid."

Bernie Sanders, Sanders Campaign Press Release - Sanders at Pine Ridge Reservation Calls for 'New Relationship' with Native Americans Online by Gerhard Peters and John T. Woolley, The American Presidency Project https://www.presidency.ucsb.edu/node/317594