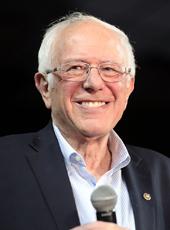 Sanders Campaign Press Release - Sanders Opposes Tar Sands Pipeline, Calls Clinton's Lack of Stand 'Hard to Understand'
WASHINGTON – Sen. Bernie Sanders on Tuesday reasserted his strong opposition to construction of the Keystone XL Pipeline, which would bring oil from Canada's tar sands region to refineries along the Gulf of Mexico in Texas.
Sanders made clear his opposition to the controversial pipeline on the same day former Secretary of State Hillary Clinton was asked during a New Hampshire town meeting for a "yes or no" answer on whether she supports the project. She declined to answer.
Said Sanders, "We have to address the planetary crisis of climate change and there is no question that we must move aggressively toward energy efficiency and the development of sustainable energy sources such as wind, solar, geothermal and biomass. That is why I have introduced legislation that would create 10 million solar rooftops on homes and businesses in the United States. So I agree with Secretary Clinton about the need for substantial investment in sustainable energy.
"But that is not enough," Sanders added. "We must make significant reductions in carbon emissions and break our dependency on fossil fuels. That is why I have helped lead the fight in the Senate against the Keystone pipeline which would transport some of the dirtiest fossil fuel in the world.
"It is hard for me to understand how one can be concerned about climate change but not vigorously oppose the Keystone pipeline."
Sanders was asked by reporters to comment on the pipeline after Mrs. Clinton was questioned at the town-hall meeting in Nashua, New Hampshire. "This is President Obama's decision and I'm not going to second-guess him," she reportedly said. "If it's undecided when I become president, I will answer your question."
Sanders has a strong Senate record on environmental legislation.
A member of both the environment and energy committees, he was the lead sponsor of a bill to tax carbon and methane emissions that cause climate change. The idea has drawn increased support from environmentalists and economists. The bill was co-sponsored by Sen. Barbara Boxer (D-Calif.), the former chairman of the environment committee. She called Sanders' proposal the "gold standard" on climate change legislation.
Sanders also wrote legislation that created an energy efficiency block grant program. His measure was folded into a broader energy bill that Congress passed in 2007. He later secured $3.2 billion for the initiative to reduce greenhouse gas emissions that cause global warming.
Sanders' 10 Million Solar Roofs Act would make solar power more affordable and make it simpler for homeowners and businesses to get local permits.
Bernie Sanders, Sanders Campaign Press Release - Sanders Opposes Tar Sands Pipeline, Calls Clinton's Lack of Stand 'Hard to Understand' Online by Gerhard Peters and John T. Woolley, The American Presidency Project https://www.presidency.ucsb.edu/node/315069