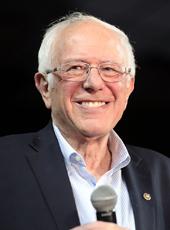 Sanders Campaign Press Release - Sanders Meets with Puerto Rican Community Leaders
NEW YORK – At a meeting with leaders in New York's Puerto Rican community, U.S. Sen. Bernie Sanders called on Congress to prioritize the needs of the people of Puerto Rico over the greed of Wall Street investors when addressing the island's financial crisis.
"We have a major economic and humanitarian crisis" in Puerto Rico today, Sanders explained. "Fifty-eight percent of children in Puerto Rico are living in poverty. Today, Puerto Rico has a debt of $73 billion and the solution to this crisis is not more austerity. Congress must act immediately to restructure the debt."
Republicans in Congress have proposed creating an unelected oversight board that would be given the power to make even more cuts to Puerto Rico's budget and raise taxes without the approval of the government.
Sanders has rejected the Republicans' proposal, arguing, "We can not give in to the demands of vulture funds on the backs of those children" who are living in poverty.
Instead, Sanders' plan would grant Puerto Rico the same authority given to every municipality in the United States to restructure its debt under the supervision of a bankruptcy court. Importantly, if any of this debt was issued in violation of Puerto Rico's Constitution, it must be immediately set aside.
In addition to addressing the fiscal crisis, as president Sanders said he would create more than 150,000 good-paying jobs in Puerto Rico by enacting a national jobs program to rebuild our crumbling infrastructure. He would also invest in clean energy on the island to lower fuel costs, create jobs and transition away from fossil fuel to energy efficiency and renewable energy.
The political future of island "is a decision for the people of Puerto Rico. There should be a referendum to let the people of Puerto Rico decide," Sanders said. "We need to create a government that works for all of us, not the 1 percent."
Sanders roundtable discussion with leaders in New York's Puerto Rican community comes just hours before New Yorkers head to the polls. In just two weeks Sanders has cut Hillary Clinton's lead in half in the state. According to a recent poll conducted by NY1, Latino and Latina voters prefer Sanders over Clinton 55 to 38 percent.
Bernie Sanders, Sanders Campaign Press Release - Sanders Meets with Puerto Rican Community Leaders Online by Gerhard Peters and John T. Woolley, The American Presidency Project https://www.presidency.ucsb.edu/node/318319