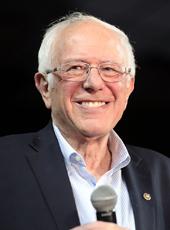 Sanders Campaign Press Release - Sanders Launches TV Ad Campaign in Nevada, Plans Campaign Stops in Reno, Las Vegas
LAS VEGAS – Bernie Sanders' presidential campaign on Tuesday launched the first major Nevada television advertising blitz by any White House candidate so far this campaign.
"Bernie intends to run a full-fledged national campaign beginning in Iowa and New Hampshire and extending into later states across the nation," said Sanders' senior adviser Tad Devine. "The campaign's movement into Nevada with statewide television advertising is a demonstration of Bernie's potential and strength with voters and our belief that his story and message of American's rigged economy held in place by a corrupt system of campaign finance will resonate powerfully across the nation."
The major new push on the airwaves in Nevada comes as Sanders plans campaign stops next week in Reno and Las Vegas.
The new Nevada effort signals that Sanders is building on the foundation he has laid for taking his campaign beyond Iowa and New Hampshire. Nevada's Feb. 20 caucuses are the third round in the contest for the Democratic Party presidential nomination after the Iowa precinct caucuses on Feb. 1 and the New Hampshire primary on Feb. 9.
The Nevada TV ad, entitled "Real Change," highlights the senator's history of standing up "for working families and for principle."
The ad is more evidence, Campaign Manager Jeff Weaver added, that "Bernie's campaign is the kind of strong, well-funded insurgent movement that can and will succeed, in large measure because it is powered by people, with more than 2 million contributions which continue to come in at an historic and unprecedented pace."
The grassroots financial support means that the campaign will have the resources to deliver Sanders' message to the people of Nevada and to millions of Americans, Weaver added. "We look forward to expanding Bernie's campaign on the ground and in the airwaves in many more states in the days and weeks ahead," he said.
Watch the ad below.

Bernie Sanders, Sanders Campaign Press Release - Sanders Launches TV Ad Campaign in Nevada, Plans Campaign Stops in Reno, Las Vegas Online by Gerhard Peters and John T. Woolley, The American Presidency Project https://www.presidency.ucsb.edu/node/326234