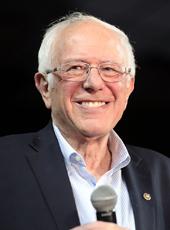 Sanders Campaign Press Release - Sanders Launches Presidential Campaign in Vermont
U.S. Sen. Bernie Sanders on Tuesday launched his campaign for the Democratic Party presidential nomination. In a speech at Waterfront Park before a crowd police estimated at more than 5,000 strong, Sanders laid out the serious challenges facing the country and detailed an "Agenda for America" calling for specific proposals to provide bold solutions.
"Today, with your support and the support of millions of people throughout this country, we begin a political revolution to transform our country economically, politically, socially and environmentally," Sanders said. "Today, we stand here and say loudly and clearly that; 'Enough is enough. This great nation and its government belong to all of the people and not to a handful of billionaires, their Super PACs and their lobbyists.'
"Let me be very clear," he added. "There is something profoundly wrong when the top one-tenth of 1 percent owns almost as much wealth as the bottom 90 percent and when 99 percent of all new income goes to the top 1 percent. There is something profoundly wrong when, in recent years, we have seen a proliferation of millionaires and billionaires at the same time as millions of Americans work longer hours for lower wages and we have the highest rate of childhood poverty of any major country on earth. There is something profoundly wrong when one family owns more wealth than the bottom 130 million Americans. This grotesque level of inequality is immoral. It is bad economics. It is unsustainable. This type of rigged economy is not what America is supposed to be about. This has got to change and, as your president, together we will change it."
In his remarks, Sanders discussed serious issues confronting the country including the 2010 Supreme Court ruling that struck down campaign finance laws. "As a result of the disastrous Supreme Court decision on Citizens United, the American political system has been totally corrupted and the foundations of American democracy are being undermined. What the Supreme Court essentially said was that it was not good enough for the billionaire class to own much of our economy. They could now own the U.S. government as well. And that is precisely what they are trying to do."
Sanders also addressed the planetary crisis of climate change. "When we talk about our responsibilities as human beings and as parents, there is nothing more important than leaving this country and the entire planet in a way that is habitable for our kids and grandchildren. The debate is over. The scientific community has spoken in a virtually unanimous voice. Climate change is real. It is caused by human activity and it is already causing devastating problems in the United States and around the world."
Sanders said his campaign will focus on those and other substantive issues, not personal attacks or negative ads.
In the few weeks since he officially formed a presidential campaign committee on April 30, Sanders has lined up more than 100,000 supporters and volunteers through BernieSanders.com. (An expanded webpage was launched on Tuesday to coincide with the campaign kickoff.) Sanders also has raised millions of dollars, mostly in small contributions of about $40 per person.
After Tuesday's rally in Burlington, where Sanders served as mayor in the 1980s, he was headed on Wednesday to New Hampshire, home of the first-in-the-nation presidential primary. On Thursday, he travels to Davenport, Iowa, for the first of several stops in the Hawkeye State, which holds the first presidential caucuses. He has begun building staffs in both states to help organize what will become a nationwide grassroots campaign.
Bernie Sanders, Sanders Campaign Press Release - Sanders Launches Presidential Campaign in Vermont Online by Gerhard Peters and John T. Woolley, The American Presidency Project https://www.presidency.ucsb.edu/node/315164