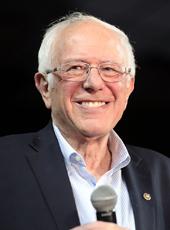 Sanders Campaign Press Release - Sanders Holds Big Lead over Trump as Clinton Slips
SANTA FE, N.M. - U.S. Sen. Bernie Sanders on Friday told a community college rally that he is much more likely than Hillary Clinton to defeat Republican White House hopeful Donald Trump.
"Hillary Clinton is not the Democratic candidate most likely to defeat Donald Trump. Our campaign is the campaign ...," Sanders said as cheers drowned him out.
Clinton has slipped behind Trump in two recent national polls and her edge over Trump narrowed significantly in a New York Times/CBS News survey published Sunday. Sanders 13-point advantage over Trump was more than twice as great as Clinton's shrinking six-point edge. Sanders also cited a recent Fox News poll in which he said Trump "rather frighteningly" is ahead of Clinton by three points. In that same poll, Sanders held a 46-42 percent advantage over Trump.
"The reason we are the strongest candidate to defeat Donald Trump has everything to do with you. We have seen from coast to coast a level of excitement and energy in a campaign that we have not seen in a very long time," Sanders told more than 2,400 supporters jammed into a gymnasium at Santa Fe Community College and 600 more who listened on loudspeakers in an overflow area outside.
"I have been moved and inspired by turnouts like this all across this country. The energy, the excitement is in our campaign, not Secretary Clinton's campaign," he added.
Sanders has notched wins in 20 states including three in the last three weeks in a row. With nine contests still to come, including delegate-rich California, the Vermont senator is now backed by almost 46 percent of the pledged delegates.
Clinton, by contrast, has commitments from 93 percent of the so-called superdelegates, top elected Democrats and party officials. "These are the people who received no popular votes at all. I know many of these people. I like many of them. This is not an attack on them or their character." But Sanders called it "a very bad idea" that more than 400 superdelegates had lined up behind Clinton before any other candidate was in the race.
"In other words, the establishment determined who the anointed candidate would be before the voters got in the process. That is a very bad idea and an idea we intend to change at the convention," Sanders said.
Sanders was headed later Friday to Albuquerque for another rally in the state where 34 pledged delegates are at stake in the June 7 primary. Altogether, 694 pledged delegates are in play on that day when Democrats also vote in California, Montana, New Jersey, North Dakota and South Dakota.
Bernie Sanders, Sanders Campaign Press Release - Sanders Holds Big Lead over Trump as Clinton Slips Online by Gerhard Peters and John T. Woolley, The American Presidency Project https://www.presidency.ucsb.edu/node/317602