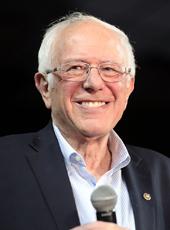 Sanders Campaign Press Release - Sanders Gains in New Poll, Clinton Support Shrinks
BURLINGTON, VT. – U.S. Sen. Bernie Sanders has significantly narrowed Hillary Clinton's margin in a new national poll that showed him making dramatic gains with African-Americans and Latinos.
Overall, Sanders cut Clinton's lead almost in half, reducing it by 12 points in the new CNN/ORC poll.
Support for Sanders has grown to 34 percent among registered voters who are Democrats and Democratic-leaning independents. That's a four-point pickup for Sanders since November.
Clinton has fallen to 50 percent, a significant eight-point drop in her standing since the same survey was conducted last month. The reversal for Clinton was remarkable because it came after support for her increased in three previous CNN polls.
In an interview broadcast Thursday morning on CNN's "New Day," anchor Chris Cuomo told Sanders "the Santa Claus of political polls has brought you a gift, the highest number you've reached so far in the new CNN poll…"
Sanders noted the progress his campaign has made from polls earlier this year that showed his support in single digits.
"All of the pundits considered us a fringe candidacy. Today, we're perhaps in the lead in New Hampshire, where I think we're closing in here in Iowa, and your poll seems to indicate we have national momentum," Sanders said in the interview taped in Council Bluffs, Iowa.
"We have come a really long way in 7 1/2 months," Sanders added. "We have a tremendous volunteer network all over this country. We are raising significant sums of money from small individual contributions. So at this point, I have to tell you, we're feeling good."
| | |
| --- | --- |
| | Non-white voters |
| | 1% |
| | 5% |
| | 9% |
| | 12% |
| | 17% |
| | 32% |
Looking closer at the CNN survey, Sanders has demonstrated growing support among what the pollster refers to as non-white voters. In a survey last April, he had only 1 percent of voters in that category. As he made a concerted effort to reach out to African-Americans and Latinos, Sanders support has grown to an impressive 32 percent in the most recent poll.
Turning to the general election, several recent polls show Sanders holding a big advantage over Republican front-runner Donald Trump and faring better than Clinton against potential Republican nominees.
A Quinnipiac University poll released on Tuesday found Sanders leading Trump by 13 percentage points, 51 percent to 38 percent. "If this margin held in a general election, Democrats would almost certainly regain control of the United States Senate and very possibly the House of Representatives," according to Bent Budowsky, a columnist for the The Hill newspaper.
The CNN poll did not ask voters about a Sanders-Trump contest. The survey did show Clinton with a statistically-insignificant two-point edge over Trump, 49 percent to 47 percent. She has slipped from a five-point lead over Trump two months ago. As in earlier CNN matchups, Clinton trailed Republican Sens. Marco Rubio of Florida and Ted Cruz of Texas.
Bernie Sanders, Sanders Campaign Press Release - Sanders Gains in New Poll, Clinton Support Shrinks Online by Gerhard Peters and John T. Woolley, The American Presidency Project https://www.presidency.ucsb.edu/node/314426