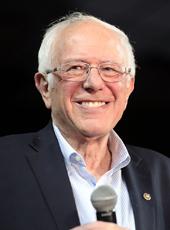 Sanders Campaign Press Release - Sanders Ends Road Trip with Packed Meeting in Minneapolis
A long line of people snaked for blocks outside the Minneapolis American Indian Center on Sunday as another overflow crowd turned out to hear Democratic presidential candidate Bernie Sanders talk about his Agenda for America to create jobs and rebuild the middle class.
More than 2,000 people packed into a basketball gymnasium and as many more stood outside on a cool Minnesota morning cheering loudly when the U.S. senator from Vermont thundered, "Our country belongs to all of our people and not just a handful of billionaires."
It was the biggest turnout since last Tuesday when more than 5,000 supporters showed up to support Sanders at his formal campaign kickoff rally at a lakefront park created along Lake Champlain in Burlington when he was mayor.
In less than a week, Sanders took his message to more than 10,000 people from the packed-pews of the old South Church in Portsmouth, New Hampshire, to a standing-room-only meeting at St. Ambrose University in Davenport, Iowa.
The turnouts reflected the building momentum of what Bernie said must be a mass movement to create a "political revolution" aimed at restoring democracy for the people in the United States. "We are going to go directly to the people in meetings like this and we're going to be knocking on doors all over Minnesota and all across America," Sanders told the big and boisterous audience here in that state that holds caucuses early next year when the presidential nominating process gets underway.
He laid out detailed policy prescriptions including a $1 trillion push to rebuild America's crumbling roads and bridges and create 13 million good-paying jobs. He said he will lead the effort in Congress to block a new 12-nation trade deal that would ship more American jobs to low-wage nations overseas. He called for raising the minimum wage eventually to $15 an hour from today's starvation wage of $7.25 an hour. He said the wealthy and profitable corporations should not be allowed to continue evading taxes by sheltering profits in offshore tax havens like the Cayman Islands. He said 4-year public colleges and universities should be tuition free. He advocated a Medicare-for-all, single-payer health care system.
"Think big," Sanders exhorted the crowd.
"Bernie Sanders can't do it alone. We have got to do it together through a strong grassroots movement," he said. "We have got to think big. Imagine a nation and a government that works for all of us, not a government dominated by billionaires and their lobbyists. We have got to stand together because when we do there are a heck of a lot more of us than them."
Bernie Sanders, Sanders Campaign Press Release - Sanders Ends Road Trip with Packed Meeting in Minneapolis Online by Gerhard Peters and John T. Woolley, The American Presidency Project https://www.presidency.ucsb.edu/node/315027