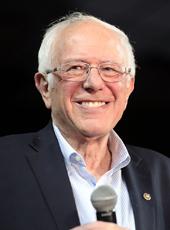 Sanders Campaign Press Release - Sanders Draws Record Crowd in Seattle
SEATTLE – More than 15,000 boisterous supporters of Democratic presidential candidate Bernie Sanders packed inside and outside the University of Washington's Hec Edmunson Pavilion on Saturday.
"The momentum is unbelievable," Sanders said. "We've got 12,000 people here," he said to roar of the crowd inside the pavilion. "And a few minutes ago, I just talked to 3,000 people outside," he added, citing a Seattle police estimate.
The big turnouts are sending a powerful message, Sanders said, in arenas and convention centers here and in other cities from Phoenix to Houston to New Orleans to Madison, Wisconsin. (The 11,300 turnout in Phoenix on July 18 was the biggest crowd for any presidential candidate before the rally here in Seattle.)
"All across this country people are sick and tired of establishment politics, establishment economics and they want real change," he said. "The people of America understand that corporate greed is destroying our country," he added, "and that much of the mainstream media is prepared to talk about everything except for what is the most important."
The record crowd for any presidential candidate so far this campaign heard Sanders speak about wealth and income inequality, the need for a massive federal jobs program, tuition-free public college, the need to strengthen and expand Social Security, reform the criminal justice system and confront racism.
"As somebody who has one of the strongest lifetime civil rights record in Congress, no president will fight harder to end the stain of racism in this country and reform the criminal justice system," he said.
He also has proposed making public higher education tuition free. "It makes more sense to me to invest in jobs and education for our kids than in jails and incarceration," Sanders said.
The Seattle audience also cheered his call for raising the current $7.25 an hour federal minimum wage. He called it a "starvation wage" and congratulated the Seattle City Council for recently passing an ordinance that will boost the minimum wage to $15 an hour. Sanders recently introduced legislation in the Senate to make $15 the minimum wage nationwide by 2020. "You did it for Seattle. We are now going to do it for the entire country," he said.
He also said he will push for passage of a massive federal jobs program to put our people back to work." He has introduced legislation to invest $1 trillion in rebuilding America's crumbling roads and bridges.
Bernie Sanders, Sanders Campaign Press Release - Sanders Draws Record Crowd in Seattle Online by Gerhard Peters and John T. Woolley, The American Presidency Project https://www.presidency.ucsb.edu/node/315409