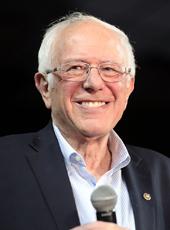 Sanders Campaign Press Release - Sanders Draws Big Crowds at Southern California Rallies
BAKERSFIELD, Calif. - U.S. Sen. Bernie Sanders on Saturday crisscrossed Southern California with rallies at Santa Barbara, Santa Maria and here at the Kern County Fairgrounds.
Aiming to speak to more than 200,000 Californians during the month before the June 7 presidential primary election, Sanders already was more than half-way to that goal after he 6,000 supports sprawled across a lawn at the coastline campus of Santa Barbara City College, 7,500 sat in the blazing sun at the Santa Maria High School football field and 4,100 packed the fairgrounds grandstands in Bakersfield at the southern end of California's Central Valley.
In a tightening California contest with Hillary Clinton, Sanders already has won primaries and caucuses in 20 states. He said a win in the Golden State with its prize of 475 pledged delegates would give his grassroots campaign a big boost heading into this summer's Democratic National Convention in Philadelphia. "We're going to go in with momentum and we're going to come out with the Democratic nomination," Sanders said.
He also taunted Donald Trump for his on-again, off-again response to Sanders' challenge to debate in California. Trump had twice agreed to debate Sanders but then backed down.
"You're a big macho guy," Sanders said of Trump. "If you have any guts come on down and let's debate the issues."

Sanders proposed a televised encounter with the Republican Party presidential nominee after Clinton reneged on her agreement to debate Sanders in California in May.
Before the sunset rally here in Bakersfield, Sanders met with Latino community leaders and residents for a discussion of immigration reform, farmworkers' rights and other issues.
"It is very clear to me that we have a broken immigration system and we need comprehensive immigration reform and a path toward citizenship," Sanders said at the meeting at the Kern County Fairgrounds. "The goal should be to unite families, not divide families."
The Vermont senator also fielded questions about dilapidated housing and the health consequences of pesticide exposure and groundwater contamination.



"I don't believe there is any member of the Congress with a stronger pro-labor voting record. I've been on more picket lines than I can recall," Sanders said.
He also recited his work on behalf of farm workers laboring under "deplorable" circumstances in Immokalee, Florida. Sanders traveled there in 2008 and based on that first-hand experience he later chaired a Senate hearing into how the agricultural industry was taking advantage of workers who were denied decent wages, decent working conditions and decent housing.
Bernie Sanders, Sanders Campaign Press Release - Sanders Draws Big Crowds at Southern California Rallies Online by Gerhard Peters and John T. Woolley, The American Presidency Project https://www.presidency.ucsb.edu/node/317632