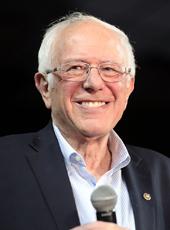 Sanders Campaign Press Release - Sanders Challenges Clinton, Trump to Back California Drug Price Proposition
ELIZABETHTOWN, Ky. - U.S. Sen. Bernie Sanders on Saturday called out pharmaceutical companies for bankrolling a multi-million-dollar campaign to block a California ballot initiative to rein in skyrocketing prescription drug prices.
Sanders also challenged Hillary Clinton and Donald Trump to join him in backing a California proposition to save state taxpayers from being ripped off by pharmaceutical companies.
"The pharmaceutical industry charges the American people, by far, the highest prices in the world for prescription drugs and millions of people are unable to afford the medicine they need. Meanwhile, the top five major drug companies last year made almost $50 billion in profits. Enough is enough," Sanders said.
"Further, the pharmaceutical industry has spent more than any other industry to buy influence in Congress, curry favor with candidates and sway elections so they can continue to rip off consumers," Sanders added.
Prices for prescription medicine in the United States soared last year more than 10 percent - the third consecutive year of double digit price increases. One out of five adults between the ages of 18 and 64 - more than 35 million Americans - cannot afford the medications that their doctors prescribe. "In the richest country in the history of the world," Sanders said, "that is unacceptable."
The California Drug Price Relief Act would prohibit the state from paying more for a prescription drug than the lowest price paid for the same drug by the U.S. Department of Veterans Affairs.
An industry-funded campaign against the proposition already had received more than $68 million as of April — six months before the election. Experts told the Los Angeles Times the industry is expected to spend at least $100 million to defeat the initiative.
Nationwide, the pharmaceutical industry since 1998 has spent $3.3 billion, more on lobbying than any other industry.
This year alone, the pharmaceutical industry has more than 1,000 registered lobbyists. Drug companies have spent more than $66 million on lobbying and over $28 million in campaign contributions.
Sanders comments on the California ballot proposition came while he was campaigning this weekend in Kentucky. Democratic voters here and in Oregon vote Tuesday on whether Sanders or Clinton should be the presidential nominee to take on Trump, the likely Republican nominee.
To read the senator's plan to lower prescription drug prices, click here.
Bernie Sanders, Sanders Campaign Press Release - Sanders Challenges Clinton, Trump to Back California Drug Price Proposition Online by Gerhard Peters and John T. Woolley, The American Presidency Project https://www.presidency.ucsb.edu/node/317561