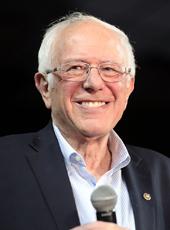 Sanders Campaign Press Release - Sanders Campaigns Sunday in Nevada at Church and Rally
LAS VEGAS – Speaking at a church service and to an overflow crowd at a rally, U.S. Sen. Bernie Sanders on Sunday brought his White House campaign back to Nevada where next Saturday's precinct caucuses are the next milestone in the contest for the Democratic Party presidential nomination.
At Bonanza High School, Sanders spoke into a bullhorn to some 300 people outside before taking the stage in a gymnasium filled to capacity with 1,700 supporters.
The rally was held after Sanders and Hillary Clinton attended Sunday service at the Victory Missionary Baptist Church. The Rev. Robert E. Fowler Sr. welcomed both presidential candidates to his church. "I'm excited that they are here and I am encouraged that they are willing to sit at the same church, at the same service, at the same time," the pastor said.
"Some of us believe that what God teaches us and what this world is about is that we do not turn our backs on our brothers and our sisters, that essentially we are in this together." Sanders said. "I have four beautiful kids and seven grandchildren. I want you to worry about my kids and I have got to worry about your children and your grandchildren. That's what this church is about and that's what our existence is about." Sanders campaigned in Las Vegas one week before Nevada's caucuses with the political winds at his back after a 22-point landslide win last Tuesday in New Hampshire built on a come-from-way-behind tie in the Feb. 1 Iowa caucuses.
"The Sanders surge is real," Nevada political analyst John Ralston wrote in the Reno Gazette-Journal. "The enthusiasm is as real here as it is anywhere, judging from his rallies and from what I hear from folks in the field. And momentum in politics is very difficult to blunt, much less turn around."
Earlier Sunday in Denver, Colorado, Sanders told CBS News' "Face the Nation" that the latest sign the Clinton campaign is getting nervous was a report that a super PAC supporting the former secretary of state plans to spend half a million dollars on television ads in South Carolina. Clinton had previously claimed that the Wall Street-bankrolled super PAC Priorities USA would hold its financial power until the general election campaign against Republicans.
"You can get a sense of the nervousness within the Clinton campaign by seeing that they are now using their super PAC money, funded largely by Wall Street, against me," Sanders said. "So I think they understand that in this campaign we have the momentum."
Bernie Sanders, Sanders Campaign Press Release - Sanders Campaigns Sunday in Nevada at Church and Rally Online by Gerhard Peters and John T. Woolley, The American Presidency Project https://www.presidency.ucsb.edu/node/314850