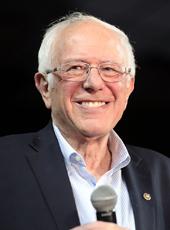 Sanders Campaign Press Release - Sanders Campaign Statement on Israel-Gaza Conflict
NEW YORK – U.S. Sen. Bernie Sanders' spokesman on Thursday responded to a request from the Anti-Defamation League for clarification of a statement by Sanders on the 2014 Israel-Gaza conflict.
"As many people know, Sen. Sanders, as a young man, spent months in Israel and, in fact, has family living there now. There is no candidate for president who will be a stronger supporter of Israel's right to exist in freedom, peace and security," said Sanders' spokesman, Michael Briggs. "The path to peace in the Middle East is not an easy one," Briggs added. "As we go forward in this campaign, distorting the truth is not useful. We hope there can be an honest discussion of this important issue."
During a recent New York Daily News editorial board interview, Sanders was asked about the 2014 Israel-Gaza conflict. "Help me out here because I don't remember the figures," he said before saying his recollection was that 10,000 Palestinians were killed. He then immediately added, "Does that sound right?" The interviewer did a quick search and found that, in fact, more than 2,000 Palestinians were killed and 10,000 were wounded. The United Nations has estimated that 2,104 were killed, including 1,462 civilians. Understanding that his recollection was about the total number of casualties, not the death toll, the senator immediately accepted that correction and the discussion moved on to other topics.
"The idea that Sen. Sanders stated definitely that 10,000 Palestinians were killed is just not accurate and a distortion of that discussion," Briggs said. "Bringing peace between Israel and the Palestinians will not be easy. It would help if candidates' positions on this issue are not distorted."
Bernie Sanders, Sanders Campaign Press Release - Sanders Campaign Statement on Israel-Gaza Conflict Online by Gerhard Peters and John T. Woolley, The American Presidency Project https://www.presidency.ucsb.edu/node/317427