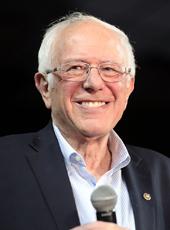 Sanders Campaign Press Release - Sanders Campaign Statement on ISIS
UNDERWOOD, Iowa – U.S. Sen. Bernie Sanders' campaign spokesman on Tuesday issued the following statement on foreign policy and the Islamic State:
"Sen. Sanders has a lot of respect for the senior U.S. diplomats who support Secretary Clinton and question his views on ISIS and Iran. We certainly concede that former Secretary of State Clinton has more experience than Sen. Sanders, but his judgement on major foreign policy issues is far superior.
"In 2002, then Sen. Clinton and then-Rep. Sanders both listened to the Bush administration's arguments for getting us into a war in Iraq. Secretary Clinton voted for that war – one of the worst foreign policy blunders in the modern history of our country and a war which resulted in the kind of chaos and instability which allowed for the rise of ISIS. Sen. Sanders not only voted against the war but helped lead the opposition to the war. Many of the concerns he raised in 2002 turned out, unfortunately, to be true.
"As president, Sen. Sanders would do all that he could to destroy the barbaric Islamic State terrorist group, but he will do it by maintaining a strong coalition of major powers and our Muslim allies. He agrees with King Abdullah of Jordan that it must be Muslim troops on the ground that destroy ISIS with the support of the United States and other major powers providing air support, training and military equipment. He will do everything he can to prevent U.S. troops from getting involved in perpetual war in the quagmire of the Middle East.
"Sen. Sanders also agrees with President Obama that Secretary Clinton's proposal for a no-fly zone in Syria could have dangerous implications.
"As president, Sanders also will work to prioritize military spending to make sure we are no longer fighting the Cold War but focus our resources and priorities in fighting today's challenges, including international terrorism."
Bernie Sanders, Sanders Campaign Press Release - Sanders Campaign Statement on ISIS Online by Gerhard Peters and John T. Woolley, The American Presidency Project https://www.presidency.ucsb.edu/node/314246